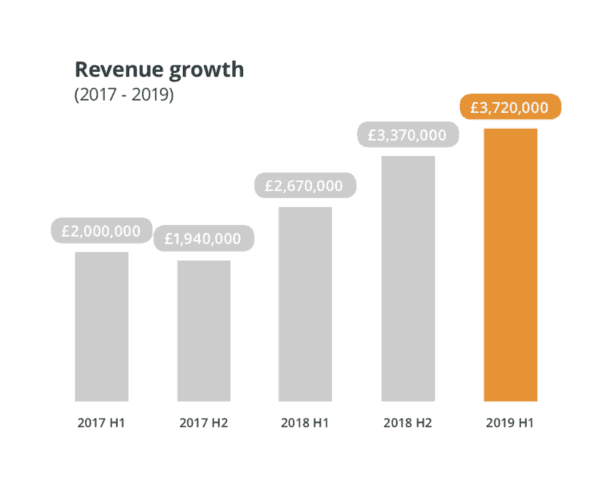 The UK's largest investment crowdfunding platform Crowdcube reported on its Q2 results yesterday. The platform said it had achieved their "sixth record quarter in succession in Q2 as revenue topped £1.9 million for the first time, up 31% compared to 2018."
The performance was described as part of the path towards profitability – an event which would be significant for the platform. First half  2019 revenues were pegged at £3.7 million – an increase of 39% versus the same period year prior.
Crowdcube said they funded a record number of businesses during Q2 raising capital for 53 firms. More prominent raises included Nutmeg at £4.4 million and Money Dashboard at £3.7 million, as Fintnech played a leading role in the crowdfunding platform's progress.
Crowdcube commented on the success of Fintech Monzo:
"We were also thrilled to see digital challenger bank Monzo, which first raised on Crowdcube in 2016, valued at £2 billion following its recent fundraise. If you were lucky enough to back Monzo in 2016 on Crowdcube, you would have seen the value of your shareholding grow more than 25 times or by 2,500%."
Of note, out of the 96 businesses that raised capital in H1, more than half were early-stage rounds but growth-stage businesses accounted for 42% of total investment during the period. 15 firms raised in excess of £1 million and Nutmeg was said to be the largest crowdfunding round in the UK so far in 2019.
Crowdcube Spain has been recognized as Spain's leading equity crowdfunding platform providing the company with a solid anchor in continental Europe.
Crowdcube's key metrics include:
Q2 2019 compared to Q2 2018 
£1.9m revenue; an increase of 31%
£61.1m of pledged investment; an increase of 28%
£44.5m successfully invested; an increase of 48%
53 pitches funded; an increase of 18%
47,693 pledged investments; an increase of 44%
37,981 successful investments; an increase of 52%
40,371 member registrations; an increase of 14%
1,448,358 web visits to Crowdcube; an increase of 1%
Sponsored Links by DQ Promote