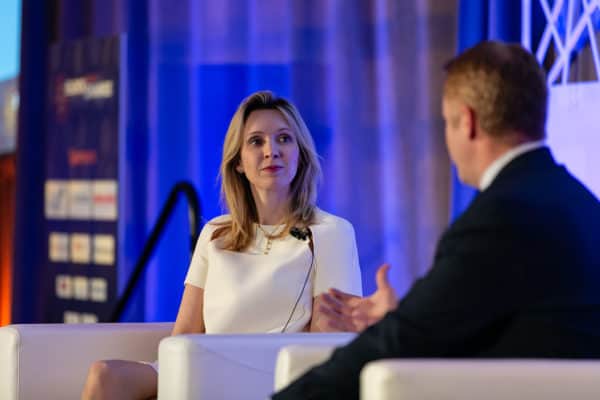 There is a lot of debate regarding the efficacy of distributed ledger technology (DLT)/Blockchain and how it will impact financial services as well as other industries. Regardless of your point of view, it is clear that blockchain has compelled established financial firms to up their game while being a catalyst to launch hundreds, if not thousands, of Fintech and other early-stage firms. Digital assets are now being issued around the world. It's a fact. In the US, they are currently pretty much all securities, but in other jurisdictions, well, it just depends. Whatever you want to call them, the genie is out of the bottle.
One of the biggest challenges for any financial service innovator is the high degree of regulation that impacts the industry. While old finance is steeped in the byzantine ways of working the halls of Congress, Fintechs have had to start from square one. At times, the advocacy process has been a difficult one – and not just for blockchain startups.
The Silicon Valley motto of "move fast and break things" does not really work too well when you have a dozen or so federal plus state regulators looking over your shoulder. For Fintechs it is more about meet with the regulator first and ask for tacit approval before proceeding down a, hopefully, compliant path.
The blockchain + financial services cocktail creates an almost herculean challenge. Digital assets did not even exist until a few years ago and many elected officials see blockchain as another policy pitch that is difficult to comprehend.
While crypto startups have generated a lot of interest, as well as operational questions, few voices have been dedicated to advocating on behalf of the nascent industry inside the bubble of the DC beltway. But this is beginning to change.
A new group dedicated to advocating on behalf of using a distributed ledger to create digital assets is the Blockchain Association. Founded in September of 2018, the Association has established itself as a dependable and knowledgeable voice for all things regarding DLT.
The Blockchain Association is providing a "unified voice" for the industry – vital for industry participants to succeed. Members include big crypto names like CoinList, Coinbase, Circle, and more.
According to their website:
"There are barriers to these advancements. On the tech side, innovators face regulatory minefields. On the policy side, lawmakers must navigate consumer protection, security concerns, and misinformation. We're committed to creating deep partnerships — within and between technology and government — to share knowledge, identify opportunities, and co-create a digital future that's more transparent, more inspiring and more secure."
A recent blogpost by the Association commented on the Facebook/Libra hearings. The missive asked congressional leaders to ask Facebook tough questions but also to recognize that "the open blockchain industry is vast and complex — and so much more than just Facebook's Libra project."
Crowdfund Insider recently had the chance to speak with the Blockchain Association's lead, Kristin Smith. She is the industry's point person for all policy issues including educating innovation-friendly elected officials. A long-time DC staffer and insider, Smith knows her way around Capitol Hill quite well.
Smith is the one and only person in this role with a sole mission to change crypto policy like greater clarity as to when securities law applies in a token transaction. Smith has established a solid rapport with Congressional offices interested in supporting the new tech. Simultaneously, she has been working the halls of Congress to foster understanding and build a bigger coalition of supportive elected officials. This is how you get things done in inside the beltway.
While the Securities and Exchange Commission has been inching the ball forward, the approach has been for regulation by negotiation and intimation more than clear cut rules.
Smith says that 80% of their effort goes into the Token Taxonomy Act, a bipartisan bill that seeks to provide better clarity on the issue of non-security tokens.
While some Congressional members have embraced blockchain technology, Smith says there is a "tremendous learning curve."
Smith notes that most members care about issues that impact their constituents. Blockchain and digital assets is not (yet) pervasive across the country.
"We do not fully have a grassroots piece built out yet. This is not the most politically active industry in the world … many [participants] despise politics," explains Smith. Blockchain industry people are not alone in struggling to deal with arcane politics.
"The things that gets people is it is a sexy issue. It's hot. A new thing. They want to be on the cutting edge. They want to keep the US competitive in the space. That is what keeps people interested. Once we get through to people they are on board," Smith states.
It also helps that blockchain is clearly not a partisan issue. Smith says the House is further along with the Senate – something that will not surprise DC insiders.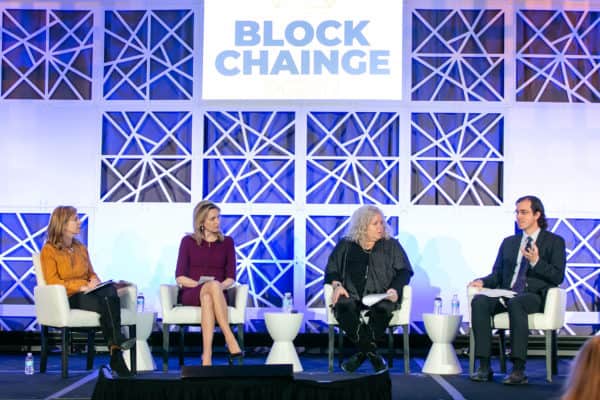 Smith says that supporters tend to be a younger group. In the early days, it was due to Libertarian tendencies. Today, the Token Taxonomy Act is balanced between Republican and Democrat cosponsors. Additionally, several Presidential candidates are supporters; Tolthy Gabbard, Eric Swalwell (who recently withdrew from the campaign trail), and Andrew Yang.
"I think we will have some folks step up in the Senate," adds Smith. She believes that we will soon see more engagement in the Senate and that at some point  some hearings to discuss the bill
"Having a hearing at this moment is not productive," Smith explains. Education must come first.
The elected officials span the spectrum with folks like Representative Brad Sherman at the extreme. He wants to ban crypto in totality. Then there is Representative Davidson – a tenacious champion of keeping the US in the lead when it comes to distributed ledger technology.
"This is the slowest phase," shares Smith. Now is the time to build the momentum to get to the next level. Getting everybody up to speed.
But at some point, in the not so distant future, it is expected that the Token Taxonomy Act will have its day at the House Financial Services Committee. Chair Waters consistently states she is supportive of responsible innovation. At some point, there must be a deeper discussion,
The initial coin offering (ICO) craze has not helped the movement. The high profile acts of fraud and bad actors engaged with the ICO sector, understandably, gives elected officials cause to pause. But every step is a step forward, says Smith.
But the slow legislative process doesn't work for agile innovators anxious to engage their entrepreneurial spirit. Smith is justifiably concerned that many projects are simply moving offshore. Why delay when you can do it in a regulatory compliant manner elsewhere? Alogrand is a recent high profile project that has captured support. Last month, it raised $60 million in a token offering which took place in Singapore.
Heck, just this week, Circle announced that part of its operations will now be based in Bermuda. There are plenty of other jurisdictions where the rules are clearer. Just like some other traditional industries, crypto firms are voting with their feet.
France, for one, has legalized non-security ICOs with the first batch of approved offerings expected any day now. As a leading EU economy, France is attempting to convince Brussels to emulate the ecosystem it is creating.
These blockchain firms are going elsewhere because of the lack of regulatory clarity.
"We are going to lose our edge. It's bad," says Smith. "I think Congress needs to fix it."
The SEC just wants to apply the securities law to this technology. That's what they do best.
Smith says that years ago, there was a tremendous gap in information. It made senes to develop a regime of disclosure. Today, the amount of information is overwhelming. She believes that applying securities law to certain offerings no longer makes sense.
"They [the SEC] are focused on investor protection. We share those same goals but this is not the right way to do it. Congress is going to have to come in and look at it. The SEC's primary goal is [investor protection] and not competition."
The SEC still very much lives in the ICO world that is quite fresh in their minds.
She admits that most people lost money during the ICO period but, since that time, everybody in the industry has moved on.
"I think the SEC has gone a good job of going after the bad guys," Smith admits.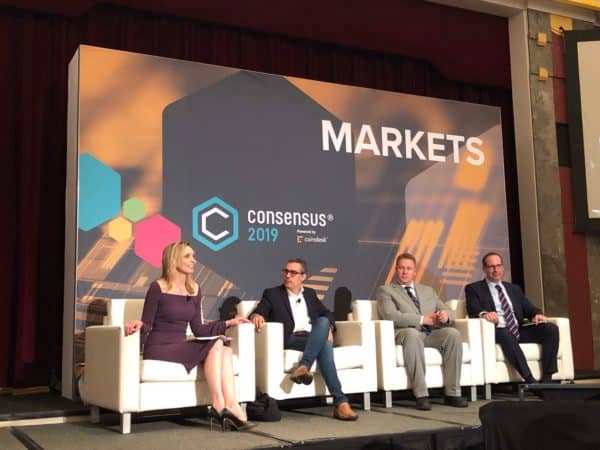 But good projects and strong teams are now locating overseas to build their projects. Smith notes that a lot of the complaints pertaining to the crypto-sphere are common in the startup world.
"Startups come close to shutting down all of the time before they get money in the bank," says Smith. It is a truism that most startups fail. Perhaps crypto startups just fail faster with a higher profile. There is no elevator for success.
One of the biggest challenges in the US is the highly fragmented nature of financial regulation. From the SEC, to the CFTC, to the OCC … the list of acronyms keeps going. It almost seems that there is an agency for every issue. Financial regulation in the US is an absolute mess. House Representatives and Senators struggle to figure it out. Sometimes it seems hard to imagine anything ever-changing in the financial services industry. The regulatory convolution is too profound.
"The way our regulators are divided up makes it harder for us to do in the US. It's going to slow us down," Smith says. "Most international jurisdictions have a single place to go."
But even with the regulatory maze, Smith has an ambitious timeline for 2019 and the following year.
"But it is a big hurdle to get people educated. We need to complete the groundwork first. This is confusing stuff."
Sponsored Links by DQ Promote