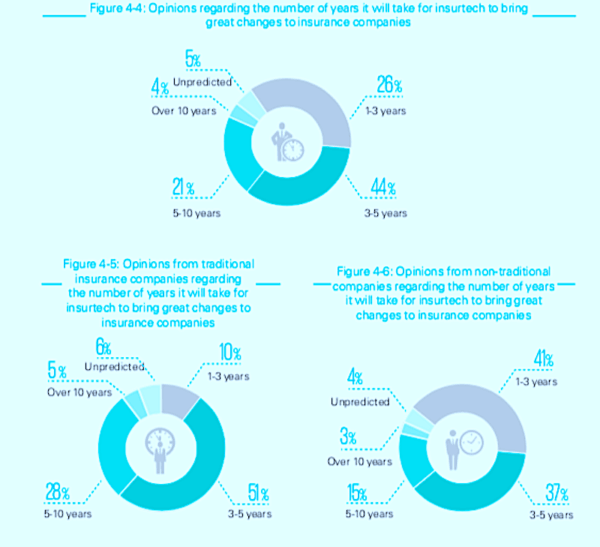 ZhongAn Fintech Institute and KPMG China have joined together to publish a report, Insurtech: Infrastructure for New Insurance, on the fast emerging Insurtech marketplace.
ZhongAn is an online-only Insurtech firm backed by some of the biggest names in China tech. ZhongAn trades on the Hong Kong Stock Exchange and holds a market cap of around HKD 25 billion (USD $ 3.2 billion). ZhongAn is also one of a handful of firms to receive a virtual bank license in Hong Kong.
The report notes that in recent years China's insurance market has grown dramatically topping  RMB 3.1 trilloin in premiums in 2017.  Online insurance has grown faster but remains smaller at RMB 183.53 billion in 2017. Insurtech in China has been "developing rapidly and will soon rise to the forefront of the global insurance market," claims the report.
Of the surveyed industry participants, the report states that 68% believe that Insurtech offers important infrastructure for the future development of the industry. On the other side, 30% of interviewees, said to mainly be from traditional insurance companies, believe that Insurtech "offers important support but is not a decisive factor for future development."
The majority of those surveyed believe that Insurtech will dramatically impact the insurance industry there is just disparity as to how long it will take. The bulk, 44%, believe it will take 3 to 5 years.
Correspondingly, those surveyed are of the opinion the Insurtech industry needs more investment:
"The survey found that 64% of interviewees believe that current investments in insurtech are less than what the insurance industry needs. These detailed results show that traditional insurance companies have more urgent demands for Insurtech investment
than other companies do. Specifically, 72% of respondents from traditional companies believe that current investments in Insurtech are less than what the insurance industry needs, and no individuals from traditional companies think that current investments exceed what the industry needs. On the other hand, the survey found that 57% of interviewees from non-traditional institutions—represented by technology companies, Internet companies and Internet insurance companies—believe that current investments are less than what the insurance industry needs."
While the opportunities may seem obvious, the digitization of insurance is inevitable, current challenges differ. The report states:
"Respondents believe that challenges mainly stem from the external environment, such as international and domestic macroeconomic factors and uncertainties in financial markets. At the same time, the application of new technologies such as autonomous driving and genetic testing has also brought about challenges for business models, product pricing and risk management. Finally, traditional insurance companies are facing inter-industry competition as Internet companies, technology companies and other enterprises enter the insurance market."
The ZhongAn-KPMG report is an interesting document highlighting the Chines Insurtech marketplace. China, including Hong Kong, represents the largest Fintech market in the world. ZhongAn is seeking to position itself as a global provider of insurance but geopolitical reverberations, and rapid changes in technology including AI, big data and fragmented regulatory environment, create a significant hurdle. At least for now.
See the report below.
---
ZhongAn KPMG: InsurTech - Infrastructure for New Insurance


Sponsored Links by DQ Promote