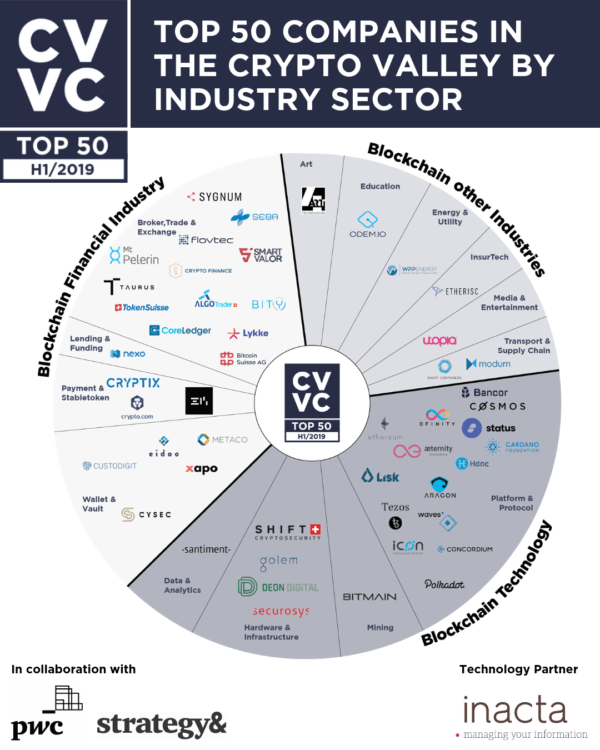 Blockchain focused investor Crypto Valley Venture Capital (CV VC), in partnership with PwC's Strategy& and IT partner inacta, has published a report claiming that the 50 largest companies in Crypto Valley, located in Switzerland, have risen in valuation from $20 billion at the end of 2018 to more than $40 billion as of July 2019.
Crypto Valley List Doubles in Value
The quarterly list and study covers companies in Switzerland and Liechtenstein. The Crypto Valley counts more than 800 companies active in cryptocurrency and blockchain. This sector is said to now employ over 4,000 professionals.
Mathias Ruch, Founder and CEO of CV VC, says the Crypto Winter is at an end.
"… companies with strong fundamentals and emerging use cases have significantly increased valuations," says Ruch.
The research highlights six hotspots in Crypto Valley: Zug, Zurich, Geneva, Ticino, Liechtenstein, and Vaud. With more than 50% (over 400) of all registered companies and all six Unicorns, Zug is the heart of Crypto Valley.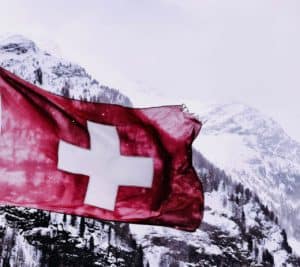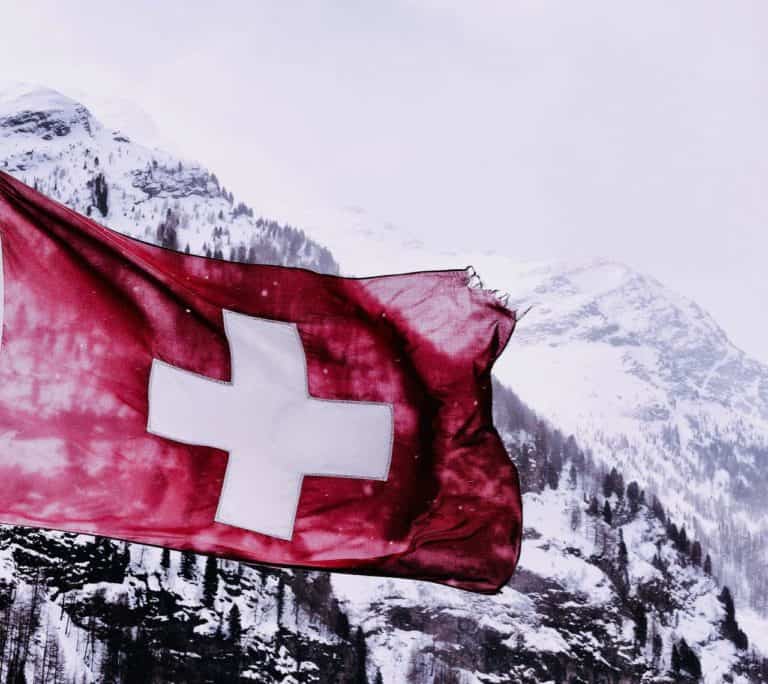 The prior Crypto Valley Top 50 Report claimed four Unicorns. Among those are three of the world's biggest protocol projects: Ethereum Foundation, Cardano and Dfinity Foundation with its headquarters and over 40 employees in Zurich, as well as the mining company Bitmain Switzerland, reportedly pursuing an IPO on a US stock exchange.
CV VC states that there are two new Unicorn additions: Cosmos Network and Polkadot. Both are protocols and valued at more than USD 1 billion each.
Swiss "Crypto Banks" are said to be driving the highest employee growth with experienced bankers joining the sector. Multiple entities have applied for banking and other licenses at  the Swiss Market Supervisory Authority (FINMA).
These firms include Bitcoin Suisse, Sygnum, SEBA Crypto, and Mt. Pelerin Group.
Dr. Daniel Diemers, PwC Head Blockchain EMEA and Partner for Financial Services at PwC's Strategy&, describes wthis development as a sign of maturity and a favorable regulatory environment in Switzerland.
" But this is just the beginning: as the market infrastructure levels up, we will see more and bigger projects develop and grow in the Crypto Valley Switzerland."
Custody of digital assets and the requirement to safely store them have created an opportunity for crypto asset custodians. Bitcoin Suisse (Swiss Crypto Vault), Crypto Finance (Crypto Storage) and Taurus Group (Taurus Protect) have each set up custody solution subsidiaries.
Nine new additions to the Crypto Valley Top 50
Five out of the nine newcomers to the Top 50 Report are related to the wallet & vault sector, according to the report:
Algo Trader AG
Cysec Systems AG
Custodigit AG
Metaco SA
Taurus Group SA.
Three new additions come from the protocol sector: Cosmos Network (Interchain Foundation) and Polkadot (Web3 Foundation), as well as ConcordiumFoundation, an ID/KYC-ready blockchain network.
Zug-based company cryptix AG announced their stable token project "ecredits" and applied for an e-money license in Liechtenstein.
But not every blockchain Swiss-based blockchain company is finding success. The report states that some noteworthy companies have exited the Crypto Valley Top 50.
Melonport has handed the project over to the community, after apparently fulfilling its road map. The Melon Team and its founder, Mona El Isa, created a whole industry movement around asset management on blockchains.
Shapeshift closed their Swiss office and is said to be operating from other jurisdictions.
Tend, an early mover, the first Swiss ICO to fully comply with KYC/AML requirements, paved the way for many Swiss blockchain companies has ceased operations.
---
CVVC_Top50_H12019


Sponsored Links by DQ Promote