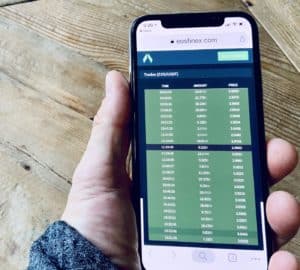 Embattled crypto exchange Bitfinex has announced that it, "has completed a chainswap to convert US$5 million tethers onto the EOS protocol via sister exchange EOSfinex.
Tethers are cryptographic proxies of USD designed to maintain a stable value equivalent to one USD.
They are used to provide liquidity in crypto trading markets and to park money between trades of volatile coins.
Bitfinex did not say what blockchain the tethers were swapped from, though they may have been moved from the Ethereum network, which in September suffered a "traffic jam" due to high volumes of tethers trading across it.
According to Trustnodes, high volumes of trades involving tethers caused 100 000 transactions to get "stuck" in processing on Ethereum early that month. High traffic on many crypto networks also results in increases to transaction processing fees, which are set competitively.
Tethers have been linked to market manipulation in the trading of Bitcoin and small-cap cryptos traded on Ethereum.
According to a press release from Bitfinex:
"The launch of the new supply of USD₮-EOS through Bitfinex in conjunction with EOSFinex Inc.'s decentralized exchange, EOSFinex, aims to provide the EOS DApp ecosystem with a stable and liquid store of value to reduce the risks pertaining to digital assets' volatility and to open new opportunities for DeFi (decentralized finance) innovation on the EOS.IO chain."
The company adds that, "Trading of EOS/USD₮ is now live on EOSFinex."
EOSFinex, however, cannot be accessed via North America, although the site is available by using a VPN service.
Bitfinex, Tether and their parent company iFinex are currently engaged in a protracted legal battle against the New York Attorney General's Office (NYAG), which has accused the three companies of fraud for failing to make timely disclosures to investors about changes made to Tether's reserves.
Because of its ongoing injections of USD-proxies (and other currency proxies) into crypto trading markets, some have characterized Tether as, "the central bank of crypto."
Critics have also wondered aloud whether Tether actually maintains purported reserves of real-world currencies to back the synthetic ones issued.
EOS is a newer blockchain designed to compete against Bitcoin and Ethereum- and enrich its founders, some have argued.
Creators of crypto networks often vest themselves handsomely as founders with the tokens later sold to the public.
Block.one, the creator of EOS, is famous for claiming it raised $4 billion USD from investors during a year-long ICO raise conducted between 2017 and 2018.
Bitfinex CTO Paolo Ardoino said the injection of tethers onto EOS is designed to help "DApps" ("decentralized applications," software projects that purport to have no leader) weather volatility:
"Promising projects aren't getting the light of day with current congestion and volatility issues on other chains, and that is why there's higher DApp usage on EOS…What EOS was lacking was a stablecoin that could help these projects manage exposure to price volatility. Priming the EOS ecosystem with a stable, trusted source of liquidity will open up possibilities for all EOS DApps and EOS community members to benefit from improved access to true value storage."
Bitfinex says, "Currently, EOSIO's peer-to-peer micropayment infrastructure powers forty-nine percent of the Top 100 DApps and seven of the Top 10 DApps with the highest 24h transaction activity."
The chainswap of ethers onto EOS appears to be also be designed to attract more users to Tether.
According to Steven Quinn, Product Lead at EOSFinex:
"We seek to play a key role in driving EOS innovation and adoption, and this is the first step in that missionNow that there's finally a genuine stablecoin solution on EOS, our next goal is to work with others in the EOS community to bring block irreversibility times down to 3 seconds as we get closer to launching EOSFinex on the mainnet."
EOS is said to be popular in Asia, where tethers are also popular, and users apparently minimally concerned about the company's legal problems in America.

Bitfinex, et al are registered in the British Virgin Islands.

Sponsored