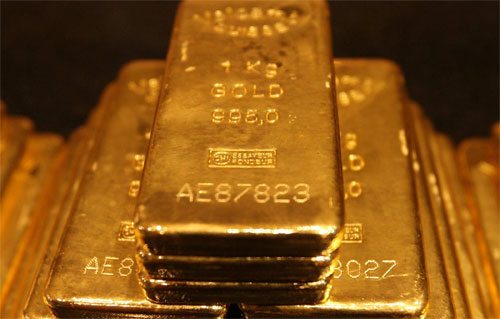 InfiniGold, a company "digitizing" gold reserves at the Perth Mint, has responded to Crowdfund Insider's questions forwarded earlier this month regarding the companies' plans to issue a Perth Mint Gold Token (PMGT) on the Ethereum blockchain.
Andreas Ruf, CEO at Infinigold, began by describing both company's exact roll in the venture:
"Infinigold is the issuer of PMGT and manages all aspects of the PMGT smart contract on the blockchain. It is responsible for the creation and redemption of PMGT and for the holding and safeguarding of the GoldPass certificates that are represented by PMGT."
"The Perth Mint is the custodian of the underlying physical gold that backs all GoldPass certificates that provide the 1:1 gold backing for PMGT."
"(It)is not The Perth Mint that is selling gold-backed digital tokens but InfiniGold that is issuing them. Therefore, all answers below are InfiniGold's answers."
Could you please tell me which blockchains or platforms the tokens will trade across?
Andreas Ruf: "PMGT is an ERC20 token issued on the Ethereum blockchain."
When the tokens will be launched?
Andreas Ruf: "The smart contract itself has already been deployed (see https://etherscan.io/token/0xaffcdd96531bcd66faed95fc61e443d08f79efef). PMGT will become tradeable on digital asset exchanges in the near future."
Is the Perth Mint aware of the high environmental costs of using public blockchains like Ethereum? 
Andreas Ruf: "InfiniGold, as the issuer of PMGT, is aware of the relatively high electricity consumption required to secure most blockchains. Bitcoin's energy consumption dwarfs the footprint of all others – though admittedly, Ethereum still consumes a tremendous amount. This is not ideal, but it's unfortunately the most effective way of generating blocks without harming decentralisation. However, Ethereum's move from Proof-of-Work to Proof-of-Stake (with the introduction of Ethereum 2.0) will significantly reduce the energy usage by more than 90%."
"While Bitcoin and Ethereum currently use similar algorithms (i.e. proof of work), there is a significant difference between the power consumption of an Ethereum transaction and a Bitcoin transaction. We would suggest to refer to https://digiconomist.net/ethereum-energy-consumption when discussing an Ethereum based product. According to this report, an Ethereum transaction uses less than 6% of the energy required for a Bitcoin transaction."
The first study I attached says that Bitcoin mining has a worse environmental impact than actual mining of several metals.
Andreas Ruf: "PMGT are not mined, they are issued by InfiniGold. We understand that for any issuing and transfer of PMGT to be confirmed on the blockchain, 'mining' these transaction is still required and quite energy-intensive, however, the report quoted above suggests, Ethereum transactions are requiring less than 6% of the energy that bitcoin transactions consume. In addition, as previously mentioned, the advent of Ethereum 2.0 will significantly reduce the energy usage of PMGT by more than 90%, so that would bring energy consumption per transaction down to below 1% of a Bitcoin transaction's electricity needs."
Are you aware that less environmentally costly token trading platforms are and will increasingly come available?
Andreas Ruf: "Yes, we are aware of a number of choices but also need to look at market size and liquidity. And we trust that Ethereum 2.0 will adequately address the high electricity consumption. InfiniGold will actively monitor the market for new opportunities where concerns such as electricity costs and environmental impact can be better addressed."
"Additionally, The Perth Mint also offers GoldPass, a digital platform based on InfiniGold technology for those that do not need their holding to be available on a public blockchain."
Is the mint prepared to switch?
Andreas Ruf: "Again, InfiniGold is the issuer of PMGT, The Perth Mint is the custodian for the physical gold that is backing the token.
As part of our standard policies and procedures, InfiniGold will monitor and review the overall underlying blockchain infrastructure regularly and at least once per year. Our architecture is modular. Digitisation of the gold occurs in GoldPass, from there a switch to or even parallel offering of PMGT on another public blockchain can be implemented quite easily."
Are you aware that tokens that can be traded globally may be used in money-laundering or terrorist finance? 
Andreas Ruf: "Most certainly we are aware of the risks of ML/TF and have implemented appropriate risk controls and countermeasures.
See page 45 of the whitepaper.
In fact, right from the start of the project InfiniGold's aim was to set a new standard of trust, credibility, creditworthiness and asset protection on the blockchain ecosystem. This includes working with top consulting and auditing firm Ernst and Young on implementing strong procedures and controls around the PMGT platform to effectively manage digital assets risks, including those of ML and TF."
What type of KYC/AML checks will the Infinigold token system be using?
Andreas Ruf: "InfiniGold follows strict Know Your Customer (KYC) and Anti Money Laundering (AML) policies that meet AUSTRAC and Perth Mint requirement."
"These policies apply on three different levels:
"GoldPass: GoldPass is a Perth Mint product, and customers of GoldPass are customers of The Perth Mint. In compliance with the Australian Anti Money Laundering and Counter Terrorism Financing laws and regulations, all customers of GoldPass that wish to enable the full functionality of their account, will haveto provide full personal details and proof of identity to The Perth Mint.The name of a customer's bank account must also be provided and must be verified with a supporting bank statement before any fiat currency can be withdrawn. The identity of a GoldPass account holder must also be fully verified before a redemption of PMGT into GoldPass certificates is possible."

"PMGT Partners: Exchanges, market makers and other potential third parties involved in the issuance, distribution and redemption of PMGT must follow extensive Know-Your-Partner (KYP) procedures and adhere to InfiniGold's policies.

"Customers and PMGT Partners: PMGT Partners will require their customers to fully comply with KYC /AML policies before they are able to buy or sell PMGT. Additionally, InfiniGold conducts ongoing transaction monitoring and risk assessments on transactions occurring on the Ethereum blockchain in the PMGT contract to identify any suspicious transactions in compliance with Anti-Money-Laundering and Counter-Terrorism-Financing laws and regulation with the goal to prevent or otherwise detect money laundering and terrorism financing."
Have a crowdfunding offering you'd like to share? Submit an offering for consideration using our Submit a Tip form and we may share it on our site!

Sponsored Links by DQ Promote