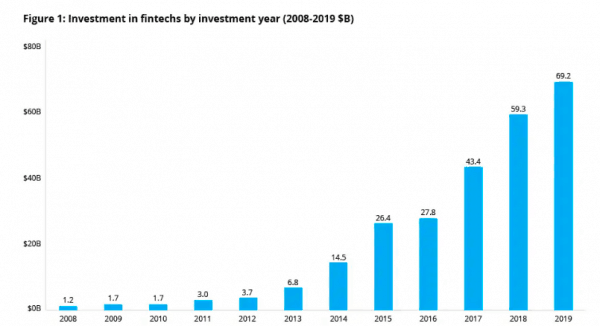 Last week, Deloitte published an update on investment activity in the Fintech sector. In brief, the good news is that Fintech investments were at an all time high in 2019. The bad news shared by the report that the number of new Fintechs founded experienced a "drastic drop in number" of new Fintechs founded. The authors of the report described the transition as shifting from Offense to Defense.
The report indicates that just 20 new Fintechs were founded in 2019 compared to 70 in 2018 and 257 in 2017.
Since 2008, there have been 4,867 Fintechs founded in total.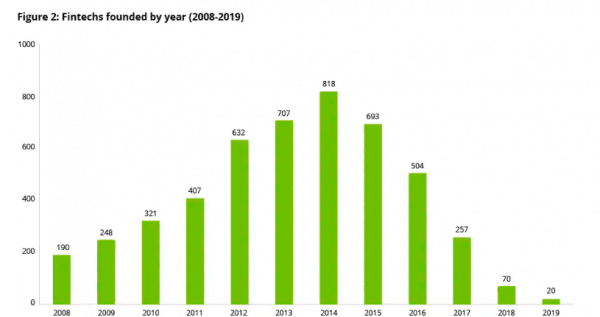 So are we seeing a maturing of the sector? Perhaps. But for now it seems more established companies are raising bigger later stage rounds. Initial Public Offerings (IPOs) and acquisitions are also on the rise.
Fintech startups received over $69 billion in funding in 2019 an increase of nearly 17% from the $59 billion invested in 2018.
According to the report:
"This past year saw more than 1,500 deals across the globe. From a regional lens, North America has always been at the forefront for startup formation and funding, with Asia and Europe trailing behind. But things are starting to change. Our analysis shows that global Fintech funding in 2019 saw a significant uptick of deals in Europe and Asia. European funding activity saw a 105 percent increase year over year (YoY), North America saw a 73 percent YoY increase, while Asia saw a 50 percent decrease in funding mainly due to the fact that a single payments Fintech in China received a $14 billion funding round in 2018. Putting that single event aside, funding in Asia actually increased by 0.2 percent YoY. Companies located in the United States accounted for 56 percent of total funding in 2019, while those in the UK garnered 12 percent, with India at 9 percent, China 4 percent, and Brazil 2 percent. Overall, these five countries accounted for 84 percent of total 2019 funding."
In the US, New York City was the epicenter of most Fintech funding with 25% of the number. London plus San Francisco garnered another 25%. But "new pockets" of Fintechs are emerging elsewhere as cities like Berlin, Mumbai, or Singapore rise.
And what about incumbents? The traditional financial firms that are too frequently fearful of change? Deloitte recommends now is the time to shift from defense to offense. If they have not already made that strategic decision.
The report is embedded below.
---
Deloittee Fintech Funding 2019

---
Sponsored Links by DQ Promote