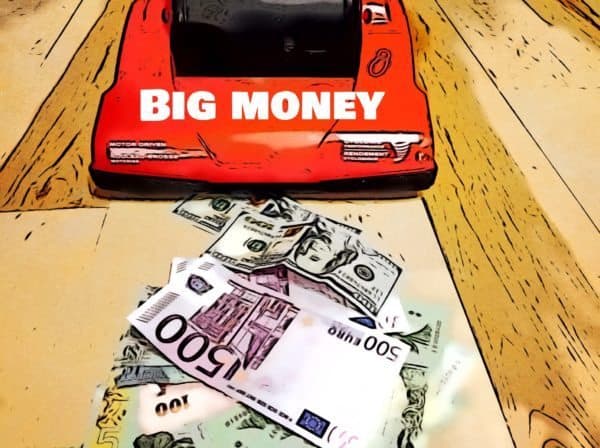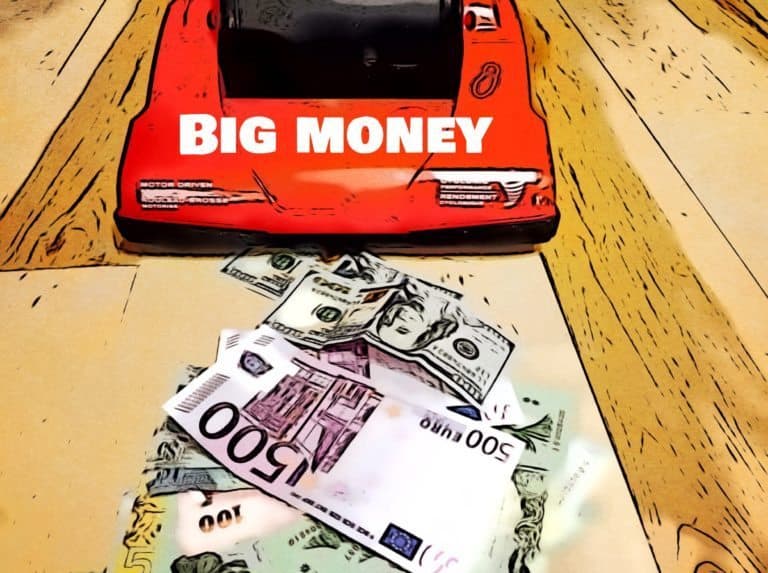 In 2019, there were $34.5 billion in 1,913 Fintech deals around the world a decline of 15% versus 2018 – a year that benefited from Ant Financial's huge $14 billion deal.  If you choose to ignore Ant, part of Alibaba, then 2019 would be a record year for innovative financial services firms.
This is according to CBInsights most recent missive documenting the massive growth in Fintech. According to the report, North America, Europe and Asia all saw the number of deals drop to a 5 year low but the supersized "mega-rounds" saved the year as there were a whopping 83 deals in 2019 that hurdled the $100 million mark. From another perspective, about 50% of the total, or $17.2  billion, was generated by these more mature companies raising private funding.
Fintech deals set two quarterly funding highs during last year (ignoring Ant again) with $9.4 billion being raised in Q4 alone.
So while supersized rounds may be big news the fact that early stage deals dropped to a 3 year low could be some cause for a concern – depending on your point of view.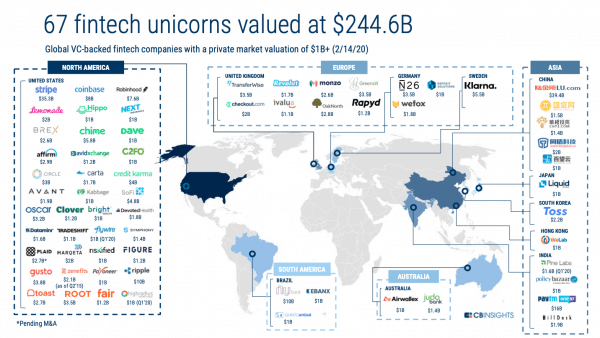 The report also notes that today there are 67 Fintech unicorns with an aggregate valuation of over $244 billion – pretty impressive as most of these companies did not exist a decade ago or so.  Eight new Fintech unicorns were birthed in Q4 of 2019 and Q1 of 2020. These include:
Next – $1 billion
bright health– $1 billion
flywire – $1 billion
riskified – $1 billion
Figure – $1.2 billion
ripple – $10 billion
highradius – $1 billion
Rapyd – $1.2 billion
Ebanx – $1 billion
wefox – $1.8 billion
Pine Labs – $1.6 billion
By region, Fintech deals registered the following during Q4:
USA – $4.6 billion in 177 deals
Europe – $1.2 billion in 100 deals (including the UK)
Asia – $2.8 bilion in 126 deals
Of note is the fact that China deal activity dropped below that of India's.

Insurtech was hot earning an 8 quarter funding peak. Lemonade led with a $2 billion valuation.

The report is of the opinion that the next hotness will be cashflow management and optimization as sophisticated services look to scale by serving SMEs.

Digital banking still holds a good amount of luster too. This sector of Fintech is just getting started. Digital banks raised $3.7+ billion in 2019. There were 96 deals – a record year for both money and offerings. Wealthtech dipped during the year but that is because digital banks, like Marcus, are poised to dominate this sector as the money centre bank of the future emerges.

The emergence of OpenBanking is helping to fan the Fintech flames. In jurisdictions (think the UK) where OpenBanking really exists, Fintechs are able to leverage this concept to provide better services to consumers and small businesses.

CBInsights has consistently provided quality reports covering the Fintech ecosystem. The full report is available here for download.

Sponsored Links by DQ Promote