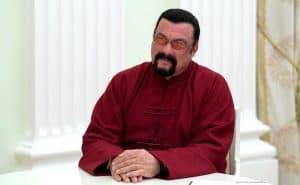 Actor Steven Seagal is apparently not above the law. At least when it comes to promoting an investment in an initial coin offering (ICO), according to the Securities and Exchange Commission.
In a release, the SEC said it has settled charges against Seagal for his failure to disclose payments he received for pumping the Bitcoiin2Gen (B2G) ICO. His involvement came after the SEC issued the DAO report, a line in the sand moment that warned the world that ICOs were probably regulated securities. Apparently, Seagal ignored the warning. The SEC enforcement division has been out for justice targeting scofflaws ever since.
According to the filing, Seagal received $250,000 in cash and$750,000 worth of B2G in exchange for his endorsement of the digital asset. Seagal currently resides in Moscow, Russia.
A press release issued by Bitcoiin2Gen stated: "Zen Master Steven Seagal Has Become the Brand Ambassador of Bitcoiin2Gen."
Seagal publicly stated at the time:
"I endorse this opportunity wholeheartedly . . . I am excited about the management, and especially about the secure blockchain, underlying mining technology, and safeguards."
Seagal went on to tout the offering on social media, including his Twitter account.
At one point, the SEC advised that, in accordance with the anti-touting provisions of the federal securities laws, any celebrity or other individuals who promote a virtual token or coin that is a security must disclose the nature, scope, and amount of compensation received in exchange for the promotion.
During the ICO heyday, multiple "celebrities" dipped into the ICO promotion space and several other well-known names have already been sanctioned by the SEC.
The SEC states that Seagal has agreed to pay $157,000 in disgorgement, which represents his actual promotional payments, plus prejudgment interest, and a $157,000 penalty.
In addition, Seagal agreed not to promote any securities, digital or otherwise, for three years.
Seagal has not admitted nor denied the SECs allegations.
Kristina Littman, Chief of the SEC Enforcement Division's Cyber Unit, commented on the case:
"These investors were entitled to know about payments Seagal received or was promised to endorse this investment so they could decide whether he may be biased. Celebrities are not allowed to use their social media influence to tout securities without appropriately disclosing their compensation."
---
SEC v. Steven Seagal 33-10760

---
Sponsored Links by DQ Promote