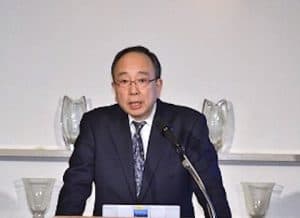 Mature global economies like Japan's won't need a virtual currency, according to the deputy governor at the Bank of Japan (BoJ).
While attending the Bank for International Settlement's Future of Payments Forum, deputy governor Masayoshi Amamiya said that a central bank digital currency, or CBDC, won't provide any significant benefits to Japan's $5 trillion economy.
CBDCs can, however, benefit developing nations like Cambodia, which have very basic payment systems, Amamiya argued. The BoJ official's statements came during his speech at BIS' payments conference, held on March 6, 2020. The deputy governor pointed out that for advanced economies, the costs of introducing a CBDC are far greater than any potential benefits.
Amamiya noted:
"At this point, there is no need to implement new steps to ensure people's access to central bank money. Moreover, the currency systems and the payment and settlement systems of these economies are operating safely and stably. They cannot simply jump into new technologies, or actually, they should not." 
If CBDCs can operate at lower costs compared to private alternatives, then vendors would want to use CBDCs instead of private payment methods (both legacy and cryptocurrencies), Amamiya  noted. He cautioned that this could "suppress private business and discourage innovations."
Amamiya argued that if Japan issues a virtual yen, then the nation's reserve bank might become the only repository for the entire nation's transaction data. This would lead to concerns about how the bank would securely store and protect users' financial details, the deputy governor explained.
Amamiya's statements have come after speculation that Japan was planning to introduce a digital yen. Last month, politicians from the nation's ruling Liberal Democratic Party submitted a proposal to the central government, asking that it should look into issuing its own virtual currency.  The digital currency could help Japan compete with China's virtual yuan.
In 2018, Amamiya had said that a digital yen may undermine the nation's two-tier financial ecosystem, and would not offer significant benefits. Last year, the deputy governor noted that issuing a CBDC would only make sense if all of Japan decided to stop using cash.
In his recent statements, Amamiya pointed out that CBDCs benefit countries that want to move away from cash payments. For instance, Sweden's e-krona project aims to help people who have not been able to switch to cashless transactions. The e-krona will offer these people convenient access to reserve bank money.
Although Amamiya doesn't want Japan to introduce a CBDC right now, he recommends conducting more research into virtual currencies. The BoJ was notably one of six other reserve  banks to establish a working group to investigate the potential use of CBDCs to enhance a country's economy.
---
Central Bank Digital Currency and the Future of Payment and Settlement Systems Remarks at the Future of Payments Forum Bank of Japan Masayoshi Amamiya 2020

---
Sponsored Links by DQ Promote