The Swiss Financial Market Supervisory Authority (FINMA) has published its annual report for 2019. FINMA said that blockchain technology continued to "preoccupy FINMA intensively." FINMA currently oversees over 29,200 financial services firms and products.
FINMA said it is increasingly seeing the development of digital securities or security tokens. To quote FINMA:
"Challenging questions are arising here on all issues concerning the trade, custody, and settlement of different token types on various transaction systems. A custody and settlement activity in connection with securities fundamentally poses the question of a possible licensing requirement as central securities depository pursuant to Art. 61 of the Financial Market Infrastructure Act (FMIA)."
A distributed ledger technology (DLT) trading system should create a new licensing category for institutions looking to trade, settle and custody securities under a single entity.
The Swiss Federal Council wishes to develop further the statutory framework for blockchain / distributed ledger technology (DLT) by means of amendments to federal law. FINMA said it is actively collaborating with this regulatory project and attaches great importance to technology neutrality and legal certainty.
There was an increased focus on stablecoins as well as a diverse range of blockchain-based applications. Libra, Facebook's attempt to create a non-sovereign global digital currency, is based in Switzerland and thus garnered discussion between FINMA and the entity overseeing its possible release.
Included in the report is data on initial coin offerings (ICO) including a statement that 1185 individual ICO investigations took place during the year a slight increase over the year prior (1,086).
According to FINMA, of these investigations, 30 resulted in enforcement actions. In 2018, 42 concluded in enforcement actions.
Overall during 2019, FINMA carried out investigations into approximately 60 ICOs, of which more than half could be concluded. FINMA identified a breach of the Anti-Money Laundering Act (AMLA) at more than ten ICOs and brought charges against the responsible people. Eight further cases resulted in entries being made on FINMA's warning list due to suspected illegal conduct. Enforcement proceedings were ultimately opened against three companies.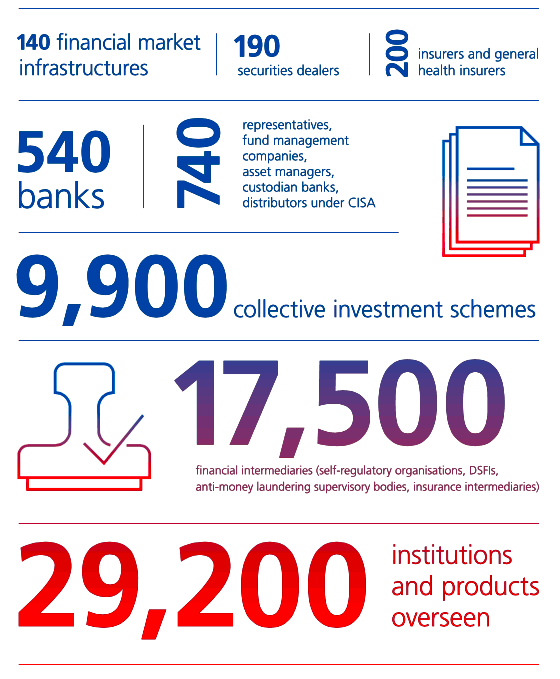 FINMA also said there was increasing activity by Swiss providers in secondary market-related financial services regarding digital assets. These included the trading and custody of tokens as well as the operation of trading venues and the associated support activities. In 2019, the Enforcement division conducted investigations into a number of these unnamed providers.
Switzerland is a jurisdiction that has sought to differentiate the country as being Fintech friendly and open to change. FINMA stated that its new Fintech license is generating interest in both Switzerland and internationally. Fintech license holders may hold public deposits (up to CHF 100 million) but not pay interest on the money. These Fintechs benefit from relaxed requirements in comparison to a full banking license.
Of course, all of the above was in addition to its more traditional pursuit of regulating established financial services firms. This fact highlights the challenge of regulators in managing dramatic change.
The FINMA Annual Report is embedded below.
---
---