WeBank, one of China's first all-digital challenger banks, has revealed that it will begin exploring  the potential integration of DAML, which is an open-source smart contract programming language developed by Digital Asset (the company).
The DAML software has been developed in order to help software engineers create distributed applications that can run across technology silos. The integration offers various smart contract resources for FISCO BCOS developers.
FISCO BCOS is described as an open consortium blockchain platform developed by the Financial Blockchain Shenzhen Consortium (FISCO) open-source working group.
Members of this group include WeBank, Beyondsoft, Digital China, Forms Syntron, Huawei, Shenzhen Securities Communications, Tencent, YIBI Technology, Yuexiu Financial Holdings (Fintech).
It is notably one of the first blockchain or distributed ledger technology (DLT)-enabled platforms developed specifically to satisfy the regulatory and service requirements of the financial industry.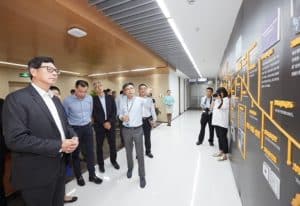 Last year, FISCO BCOS was reportedly the first local blockchain platform chosen as the technology infrastructure for China's blockchain-powered service network (BSN).
Henry MA, executive vice president and CIO at WeBank, stated:
"Blockchain is a significant opportunity for innovators. Working with an international market leader like Digital Asset by integrating DAML smart contracts with FISCO BCOS is a key milestone for us to deliver [innovative] blockchain solutions across finance, supply chain and other sectors in China and beyond."
Established in 2014, Digital Asset aims to develop a cross-enterprise asset, transaction and workflow processing environment for enterprise clients. The company's products have been adopted by Big Four auditing firm Deloitte, the Australian Securities Exchange (ASX), the Hong Kong Stock Exchange (HKEX), and Accenture.
Yuval Rooz, co-founder and CEO at Digital Asset, remarked:
"We are [looking forward to working with] WeBank … As a driving force behind the FISCO BCOS community, WeBank has emerged as a leader paving the way for … distributed customer applications across China and beyond."
The FISCO BCOS community now includes over 10,000 application developers and more than 500 corporate members, internationally.

Instead of operating a single blockchain network, the consortium chain consists of several different blockchain platforms that aim to serve the general public. The protocol doesn't have a native token, is permissioned, and supports zero-knowledge proofs (zkps), which allow users to reveal or prove certain facts or information about themselves without having to share their private data.

Sponsored Links by DQ Promote