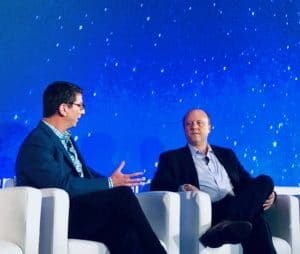 Jeremy Allaire, founder of Circle Internet Financial, a peer to peer payments technology firm, has said that in the future, when we look back at how transactions were conducted, we "won't believe that we ever needed to pay to send money."
San Francisco-based crypto exchange Coinbase and Circle have developed USDC, one of the world's largest (by market cap) stablecoins that's backed with the US dollar.
Allaire, whose comments came during a June 24, 2020 webinar held with the support of the Chamber of Digital Commerce, has said that the growth in mainstream financial use cases is driving more demand for high-throughput payments and finance-optimized blockchain infrastructure.
The Algorand Foundation and Circle have teamed up to bring USDC to the Algorand blockchain. The implementation is scheduled for Q3.
Allaire remarked:
"The combination of USDC and Circle Platform Services with the Algorand blockchain will create a foundation for developing a wide range of scalable, secure and compliant financial applications."
Walter Hessert from Paxos, a company whose gold-backed stablecoin is being used to perform cross-border payments and settlements, pointed out during the webinar that stablecoins could potentially transform or completely change how securities are traded.
He stated:
"Long-term will stablecoins play a role in tokenizing and settling securities? Absolutely."
Daniel Gorfine, one of the founders of the Digital Dollar Foundation, a think tank focused on conducting R&D work related to a potential US dollar backed or based digital currency, argued during the June 24 webinar:
"Even if you're a skeptic, why wouldn't you plan for the possibility (of a Digital Dollar) that this could happen? And knowing that you can't just flip a switch on this in five years, why not start now?"
Allaire added the Digital Dollar or central bank digital currencies in general are attractive because their use cases are "as broad, ultimately, as the use cases for money. So what could you do with a dollar, that is digital."
Hessert mentioned that fiat money, including US dollars, are a key area when it comes to increasing the speed and efficiency of global money transfers, because most transactions are settled with the USD.
Hessert noted:
"Today, dollars are really critical to allowing this to happen. They are on one side of about 80% of transactions around the world."