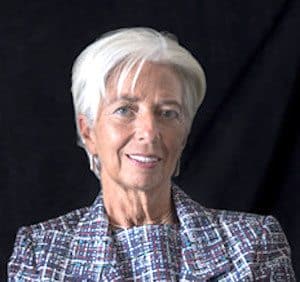 Christine Lagarde, the President of the European Central Bank (ECB), has noted that money facilitates both transactions and relationships. According to the former International Monetary Fund (IMF) chair, money may be considered "an expression of sovereignty."
Lagarde, whose comments came during the recently held Deutsche Bundesbank online conference on banking and payments in the digital world (in Frankfurt, Germany), stated that innovation in payments has made it easier for us to interact and conduct transactions a lot faster and in cheaper ways than ever before.
The French politician and lawyer noted that this innovation now comes in new forms, which includes private payment systems or virtual currencies. These new digital technologies have introduced significant risks and they also "pose important questions of sovereignty," Lagarde said.
She remarked:
"These [digital innovation] issues go to the very heart of the ECB's mandate. They raise new questions about whether the ECB should drive initiatives to integrate retail payments in Europe, and even whether it should issue a digital euro. We have a duty to play an active role in balancing the risks and benefits of innovation in payments, so that money continues to serve Europeans well."
Lagarde, who was the first woman to become finance minister of a G8 economy (France) and is also the first woman to head each the ECB and IMF, believes that the digital revolution has begun to fundamentally transform our daily lives. She pointed out that over 80% of Europeans are now using the Internet on a regular basis, which is a significant increase from about 20 years ago when only 20% of them were active users.
Lagarde thinks that the rise in Internet and digital technology use has had "a profound impact on how we communicate, how we spend and how we work."
She added:
"COVID-19 has accelerated this trend towards digitalization. E-commerce, which has grown steadily in recent years, increased by almost a fifth in terms of volume of sales between February and June 2020, while in-store sales declined. As our lives have suddenly gone digital, so have our payments: there has been a surge in online payments and a shift towards contactless payments in shops."
She also confirmed that, in 2019, cash was still the most common way to settle small retail payments. She revealed that cash payments accounted for 73% of all physical retail payments last year. However, nearly half of consumers responding to the ECB's survey stated that they plan to pay digitally, and this key Fintech trend has received a major boost due to the pandemic.
Largarde believes that this trend is "unlikely to be reversed once the pandemic is over." She pointed out that a survey by a consulting firm found that consumers based in 17 European different countries said they'll keep conducting digital payments if/when the pandemic is over.
Lagarde further noted:
"Payments are subject to strong network effects: the more users a payment system has, the more attractive it becomes to new users. Scale matters – this limits the field and inevitably leads to just a few service providers dominating the payments market. Europe has fallen behind in this competition. The lack of payments integration in Europe means that foreign providers have taken the lead." 
However, she thinks this might not be a concern if foreign companies can be held accountable and also if their operations can be properly regulated.
Lagarde argued that we're now experiencing an increase in "protectionist" policies, as sanctions and exclusion from payment systems have shown. She claims that this poses new risks of payment disruption, particularly in areas that are "overdependent on dominant system providers."
She continued:
"European payments are also being affected by technology firms driving the digital transformation of global payments. … More than a quarter of the world's population are active users of Facebook, which could give its Libra project a global footprint from the outset. And it is not unlikely that other large technology firms enter the playing field, too."
Lagarde thinks that these developments could potentially lead to greater competition, which would enhance existing payment platforms while enabling greater financial inclusion. However, she cautioned that allowing Big Tech like Amazon, Apple, or Facebook to offer digital financial services may "magnify a host of issues, ranging from abuse of market power to ownership of critical data." She believes it might also make it more challenging to deal with illicit activities and more difficult to "ensure operational resilience."
She continued:
"State backing is essential for there to be trust in payments and money. Money held in bank deposits can be seen as a form of private digital currency, but it is widely used because people trust that they can readily convert their deposits into central bank money."
She added:
"Private digital currencies would not necessarily allow the same kind of convertibility and are unlikely to have the same state backing. Without a monetary and regulatory anchor, the stability of payment systems would essentially depend on the safety of private money issuers."
Lagarde also mentioned that issuing a digital euro would "allow the Eurosystem to be at the cutting edge of innovation." She confirmed that digital wholesale money is not a new concept, as banking institutions have been able to access central bank money for a long time.
However, she thinks new technology may improve the process of conducting financial transactions. It may also support the development of a retail-focused central bank digital currency (CBDC), Lagarde noted.
She concluded her speech by confirming:
"The Eurosystem has so far not made a decision on whether to introduce a digital euro. But, like many other central banks around the world, we are exploring the benefits, risks and operational challenges of doing so. The findings of a Eurosystem taskforce are expected to be presented to the public in the coming weeks, followed by the launch of a public consultation."
(Note: Lagarde's full speech is available here.)

Sponsored Links by DQ Promote