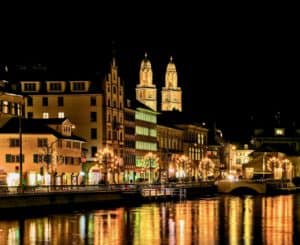 Levent Künzi, Co-founder and CEO of Properti, a technology-driven real estate firm focused on modernizing residential real estate in Europe, has shared the company's key milestones from last year in an annual review 2020 update.
Künzi confirmed that Properti handled CHF 69 million (appr. $77.52 million) in total mediated volume. It managed to make 419 successful placements, placed 16,212 total ads, and currently employs 37 professionals.
As noted by the Properti team:
"We offer a wide range of services related to sales and rentals for private and commercial real estate. Our service includes accompanying you from start to finish, communicating openly and transparently with you and only incurring costs in the event of success."
While sharing other updates, Künzi revealed that the company has entered 19 official partnerships and maintains five business offices throughout Switzerland. Last year, the Properti team received and handled 112,200 calls made by their customers, while maintaining an active presence on major social media platforms.
In total, Properti received 580 applications and Künzi claims there were around 27,500 parties interested in potentially working with the firm. The company ended the year with 508 active properties and 53 brokerages, Künzi noted.
He also confirmed that "from spring onwards, we will enter real estate management with a unique and innovative model."
As previously covered, Künzi had noted that the COVID-19 crisis has shown us that even large transactions, such as purchasing a property, may be finalized completely in an online or virtual environment.
He had stated that his industry, Proptech, had welcomed the recent increase in competition and the progress in the digitization of real estate. He had also confirmed that most property transactions in Switzerland are still being completed in-person or in "real life."
He believes that the next logical step may involve integrating different real estate platforms with the appropriate financing options so that we can access various automated services while working with the same provider.
Künzi had also mentioned:
"AI solutions from the Fintech and Proptech sectors can provide thorough, transparent, data-based advisory services for lower costs. The trend in Switzerland, Austria and Germany is clear: Technology is pushing the transaction volume of online mortgages up. German banks have reported that the proportion of mortgages completed online as 45%, whereas in Switzerland and Austria, the boom in online mortgages is about to start."
The Properti team also revealed:
"[Our company] was only founded in November 2019 and 2020 presented us with a major challenge at the beginning. Nevertheless, we have been able to grow daily over the past 12 months: from a small startup to a real success story. And this is just the beginning! We are looking forward to the year 2021 and everything it has in store for us!"
As noted by the company, Properti is "the vision of two brothers who have set themselves the goal of changing the real estate industry with the latest technologies and attractive conditions for customers as well as trustworthiness and transparency."

Properti aims to establish itself as a modern real estate firm with guidance and leadership from Adrian Künzi and Levent Künzi.

Sponsored