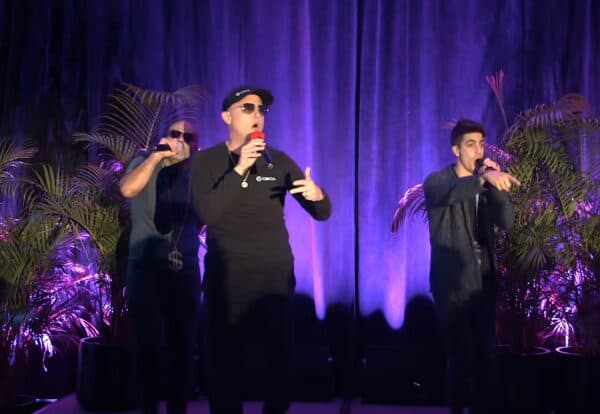 This is a first.
Jeremy Allaire, CEO and co-founder of Circle, the issuer of the USDC stablecoin, has joined with his teammates to do a crypto rap. The performance available on YouTube, was done in celebration of USDC topping $20 billion in market cap. While the rap video was performed last month, USDC now stands at over $33 billion and is in the running to top the leading stablecoin Tether.
The video was posted the same day that the President's Working Group on Financial Markets (PWG) published its report on stablecoins that includes an outline of what regulators would like to see along with a request that Congress draw up legislation to create the rules.
After a promise to my company and crypto twitter, making good on it, USDC at 33. (2/3) https://t.co/ejNIPWaC5b

— Jeremy Allaire (@jerallaire) November 1, 2021
If you want to read Allaire's thoughts on the PWG report there is a summary of a Twitter thread available here.  In brief, there are a lot of unknowns and the devil is in the details. Circle has previously revealed that it has applied to receive a federal bank charter – something that should help them in their quest to provide the next generation of payment rails if it is approved by regulators. Circle is focused on a "full reserve" banking model in contrast to a fractional reserve. Overall, Circle is optimistic for the future of USDC but it will be interesting to see if Congress can actually join together and write a bill that both sides can support.
As for the Crypto Rap, you can watch it below. Hey, if the CEO of Goldman Sachs can be a celebrity DJ, why can't Allaire and crew be Crypto rap stars?
---
https://youtu.be/Aa5HxJFzdME

Sponsored