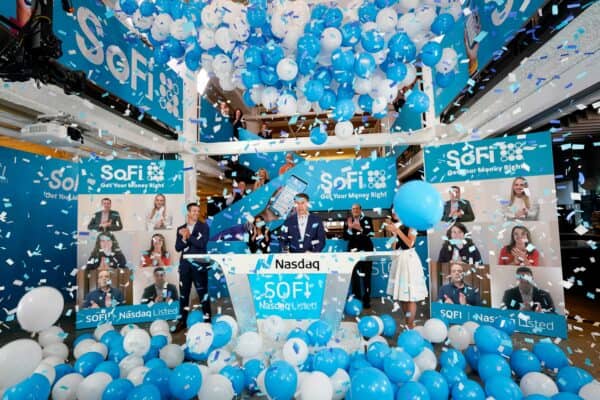 SoFi Technologies (NASDAQ:SOFI) is not simply just another neobanking platform, according to a Bank of America (BoA) analyst.
SoFi provides services to several different neobanks via its Galileo platform, which the BoA analyst said is an important "differentiator."
BoA analyst Mihir Bhatia pointed out that he was quite impressed by SoFi because of its wide range of product offerings as the firm aims to serve as a "one-stop shop" for financial services. Bhatia gave SoFi shares a buy rating and a $17 price target this Friday.
SoFi stock had surged 6.3% to around $13.17 following the updates in recent trading. But it has dropped 17% YTD.
Bhatia is forecasting a revenue growth rate of over 40% compounded annually from 2021 to 2024. He is also expecting a considerable margin expansion to 22% this year from just 3% in 2021.
He added:
"Sofi has more recently been focused on driving member growth at the top of the funnel."
He also mentioned that the firm's traditional products such as SoFi Money, SoFi Invest, and money tracker SoFi Relay have been a focus area. The firm also cross-markets various other products like student loans, home loans, and even personal loans.
Bhatia also noted that SoFi's acquisition of personal finance firm, Galileo, that aims to support quicker innovation and enhance overall unit economics.
He also noted:
"SOFI has invested in improving Galileo's capabilities for its own business and then it can offer those capabilities to other neobank clients."
It's worth noting that Galileo enhanced SOFI Money's unit economics by nearly 20% and reduced costs.
SoFi also finalized its acquisition of Sacramento-based Golden Pacific Bancorp earlier this month, and it has managed to obtain approval as well.
SoFi obtained clearance from the Office of the Comptroller of the Currency and the Federal  Reserve following its intent to acquire Golden Pacific Bancorp.
The analyst added that they "view the Bank Charter approval as an important step and believe it will have positive financial and non-financial impacts."