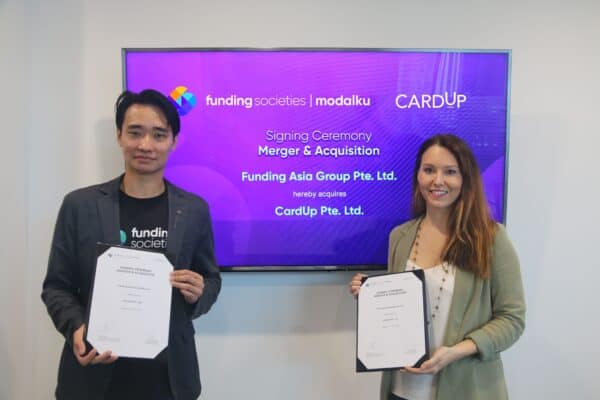 Leading Asian SME financing platform and emerging neobank Funding Societies is acquiring regional payments solution, CardUp. The terms of the deal were not disclosed.
CardUp is a payments provider serving both businesses and individuals. CardUp was founded in 2016 and operates in Singapore, Hong Kong, and Malaysia. The company is licensed by the Monetary Authority of Singapore (MAS) as a Major Payment Institution under the Payment Services Act 2019 and is licensed by the Hong Kong Customs and Excise Department (HKCED) as a Money Service Operator.
Funding Societies noted that by purchasing CardUp it will gain access to payments capabilities like card payments to non-card accepting recipients (domestic and cross-border), online payments acceptance, invoice automation tools as well as its licenses. CardUp's payment services are expected to complement Funding Societies' lending products while enabling SMEs to manage and pay expenses, receive payments, and borrow funds all within a single platform.
The acquisition follows Funding Societies Series C+ round where it raised USD$ 294 million – USD$144 million in equity capital.
CardUp reports serving tens of thousands of businesses including micro-businesses, SMEs, and corporates across various industries. These businesses use CardUp for payments related to payroll, rent, corporate tax, vendor payments, receivables flows, and cross-border expenses. CardUp claims a growth rate of 53% quarter over quarter.
Kelvin Teo, co-founder and Group CEO of Funding Societies | Modalku, commented:
"Having known Nicki [Ramsey] and CardUp since 2018, we find CardUp has a great cultural and strategic fit. Acquiring CardUp enables us to leapfrog and accelerate our market leadership in the regional Fintech space, integrating payments capabilities, enhanced user experience and local licenses to our digital lending experience across key markets. We are excited to work with the CardUp team and are honoured to join forces with them."
CardUp Founder and CEO Nicki Ramsay, said:
"We have long recognised Funding Societies as the regional leader in SME financing and a complementary counterpart to our expertise in payments. This acquisition reflects strong strategic and cultural synergy with both parties aligned on the mission to help SMEs improve the way they operate their business and manage cash flow. We are confident that CardUp and our employees are in good hands with Kelvin and his team and are excited to work together on this next chapter of growth."
Ramsay is expected to join the merged companies team to lead its payments business while retaining all CardUp's employees across Asia.

CardUp will continue to operate its consumer and business services and maintain its relationships with card networks, and issuers.

Sponsored