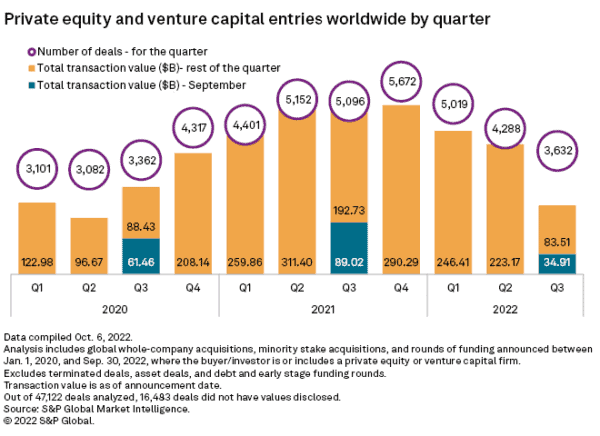 Data points highlighting flagging markets, including private investments in early-stage firms, continue to litter our inbox. The missives should arrive as no surprise as inflation is at a multi-decade high, the US economy is in a recession (or will soon be in one), and the Federal Reserve is raising interest rates in an attempt to curb-stomp the economy to the point it can kill inflation. Ironically, the current Administration, aided by Congress, has been fighting the Fed with stimulative legislation. And then there is ongoing global strife and high oil prices.
S&P Global Market Intelligence has distributed its research on the slump in global private equity, and the numbers are grim. According to S&P:
"Global private equity and venture capital entries in September plunged 60.7% to $34.91 billion from $89.02 billion in the same month in 2021, according to new S&P Global Market Intelligence data and analysis. On a month-over-month basis, the total deal value dropped 17.3%."
The report states that the number of deals revealed in September sank by 33.1% to 1,215 versus the same month year prior at 1,817.
The total deal value for Q3 2022 stands at $118.42 billion, in contrast to $281.75 billion during Q3 2021.
S&P states that North America maintains the lead, with the US and Canada dominating in September, with a deal value totaling $14.98 billion across 403 transactions. Europe and Asia-Pacific trailed with 378 deals totaling $9.51 billion and 377 transactions aggregating $9.17 billion, respectively.
The technology, media, and telecommunications sector attracted the most capital from private equity and venture capital firms in September, with $13.05 billion in total transaction value. It was followed by the energy and utilities sector with $8.09 billion and the consumer industry with $3.39 billion.
So when will the pain end?
S&P does not make a prediction, but a Fed pivot, or at least a pause, should help the dust settle a bit – when it comes. But the report states, "the sweet spot that private equity markets have enjoyed over the last few years is likely over."