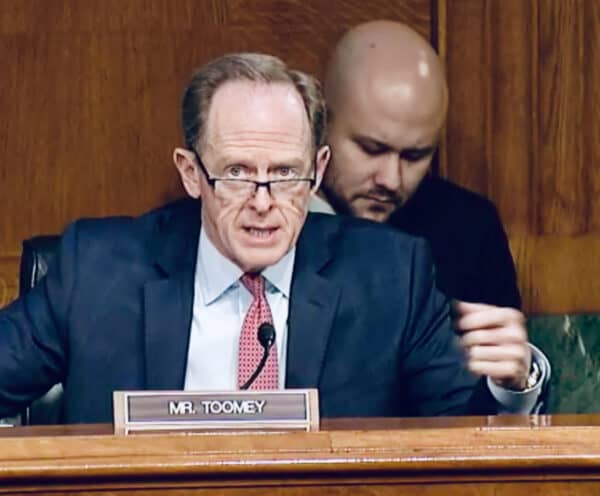 Retiring Senator Pat Toomey has introduced his stablecoin legislation just prior to his exit from the Senate and his ranking position on the Senate Banking Committee. Toomey is currently one of the most effective and knowledgeable policymakers engaged in financial services legislation, and his presence will be a huge loss for markets, and the overall economy.
Alternatively labeled the 'Stablecoin Transparency of Reserves and Uniform Safe Transactions Act of 2022'' or the ''Stablecoin TRUST Act of 2022," the legislation aims to provide regulatory clarity for stablecoins and stablecoin issuers. A compliant approach for stablecoins will burnish trust and utilization. Stablecoins are currently widely utilized as on/off ramps for digital asset trading. Yet some predict stablecoins are more akin to new and improved payment rails. Faster, more secure, and with fewer fees. Traditional credit card transactions typically involve fees from around 1.4% to 3.5%. Card issuers generate significant income from these fees. Stablecoin issuers may be poised to provide a superior alternative to cards.
In a release, Senator Toomey stated:
"Stablecoins are an exciting technological development that could transform money and payments. By digitizing the US dollar and making it available on a global, instant, and nearly cost-free basis, stablecoins could be widely used across the physical economy in a variety of ways. I hope this framework lays the groundwork for my colleagues to pass legislation next year safeguarding customer funds without inhibiting innovation. I've put forward a regulatory model that won't undermine competition by favoring entrenched incumbents – for example, by limiting payment stablecoin issuance to insured depository institutions. This bill will also ensure the Federal Reserve, which has displayed significant skepticism about stablecoins, won't be in a position to stop this activity."
The stablecoin legislation has been in the works for quite some time. The key aspects of the bill are described as follows:
Encourages competition by authorizing several types of regulated entities to issue payment stablecoins.
Enhances financial stability by requiring that all payment stablecoins are fully backed by high-quality liquid assets.
Establishes transparency by subjecting all payment stablecoin issuers to standardized disclosure requirements and attestations by registered accounting firms.
Provides much-needed clarity that, at a minimum, stablecoins that do not offer interest are not securities.
Protects consumers by clarifying that payment stablecoin holders would have priority in the event of an issuer's insolvency.
Restores privacy protections to financial transactions involving stablecoins and other digital assets
Preserves and builds upon the state-based regimes under which existing stablecoins are issued and regulated.
Authorizes the Office of the Comptroller of the Currency (OCC), the primary federal regulator of national banks, to establish a new federal license designed specifically for payment stablecoin issuers.
The creation of a new regulatory path regulated by the OCC has been advocated by certain industry insiders. A new license for a "national limited payment stablecoin issuer " will be created by the legislation – a regulated entity that will not hold customer deposits. At the same time, depository institutions may issue stablecoins as well as state-regulated money transmitters, trusts and other authorized entities.
With current language, stablecoin issuers must publicly disclose assets on a monthly basis. Quarterly statements by registered accountants are mandated. A stablecoin issuer will be banned from engaging in making loans or other extensions of credit.
The OCC must decide on an application within 90 days. If no determination is made, the issuer is deemed approved.
Stablecoins are deemed not to be securities and thus will not be impacted by SEC oversight.
Vitally, the legislation incorporates privacy protections for stablecoin users and issuers.
As Senator Toomey will depart the Senate in January, it is not immediately clear who will champion the legislation going forward. As the House is controlled by the Republicans, stablecoin legislation should garner sufficient legislative support.
The draft legislation is available here and below. A summary is available here.
---
Stablecoin TRUST Act of 2022 Toomey 12.21.22

---
Sponsored