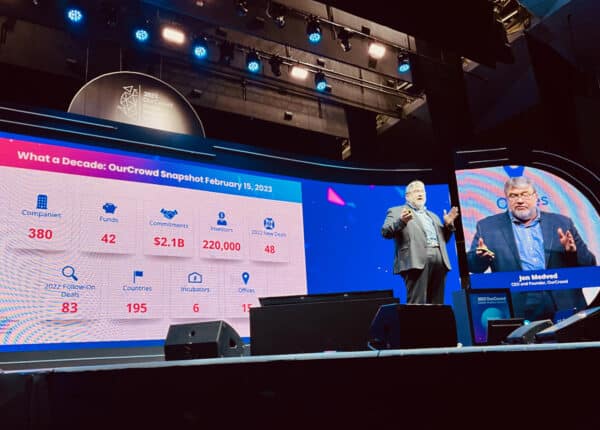 The OurCrowd Global Investor Summit opened with Israeli President Isaac Herzog addressing the crowd at an event that claimed around 9000 registrations – the largest ever for OurCrowd. Attendees included over 1700 individual investors, 1000+ multi-national corporations, 630+ venture capitalists, and hundreds of members of the press. This is not to mention the hundreds of entrepreneurs showcasing their creations, which are typically in the midst of raising money.
The Summit has long been the largest event of its kind globally, but COVID compelled the event to pause for three years. The Summit, which boasted participants from just about every country in the world, returned on OurCrowd's 10-year anniversary.
In 2013, OurCrowd reported $24 million in committed capital and 2438 registered investors. Ten years later, OurCrowd claims $2.1 billion in committed capital, over 220,000 investors, along with 61 exits to date, including IPOs and acquisitions.
OurCrowd, which says it reviews about 2000 companies every twelve months, is highly selective, investing in about 44 private firms a year. Its portfolio companies now number 380.
The event is a must-attend gathering for Israel's robust entrepreneurial ecosystem. Even in a challenging macroeconomic environment, innovation continues, opportunity persists and deals are made.
Herzog, welcomed on-stage by OurCrowd founder and CEO Jon Medved, lauded the accomplishments of Israel's most active venture investor – a platform that allows smaller investors to participate in securities offerings alongside big corporations and well-known VCs. Herzog also commented on the current political environment, which is embroiling the country in a debate about its future. Herzog called for both sides of the discussion to reach a compromise with the pending judicial reform.
""I think the same way you see the innovative spirit of the State of Israel, you also see it in this debate and I am very proud of my brothers and sisters ‒ the Israelis taking an active role in the debate from all of its sides. All I can say about myself is that I'm doing my best to direct this debate into a constructive dialogue that will lead to an agreed-upon result that will strengthen, and foster, and protect Israeli democracy," said Herzog.
Stating that Ourcrowd should not get involved in politics as it needs to focus on its mission, Medved acknowledged the stellar activity in 2021, a stand-out year, in contrast to the decline experienced by Israel and the rest of the world when it comes to capital formation during 2022. While private markets have slowed in recent months – creating a challenge for some firms in need of capital, the expectation is this should reverse in the not-so-distant future.
Beyond its growing number of startups and funds, Medved shared the firm's intent to offer new asset classes to its investors, which will be made available on the platform as it leverages its growing community of registered users.
In a press event prior to the first session, Medved revealed that secondary trading of private securities will soon be available on the OurCrowd marketplace. While not disclosing the name of the firm, Medved said secondary trading will be offered in partnership with a top US firm.
Venture investments are not for the impatient, and by providing an option for liquidity beyond an IPO or acquisition, OurCrowd will create a third option for investors on the platform.
At the same press event, representatives from OurCrowd's push into other Middle Eastern countries – made possible by the breakthrough Abraham Accords, discussed the developing relationships with the UAE.
Medved said that soon OurCrowd will be investing in and holding events in Morocco, with other Arab countries expected to join in on the mutually beneficial opportunity.
"[The] Children of Abraham bring goodness to the world," said Medved, adding that he is looking forward to the expansion of the Accords.
Significant MENA delegations were present, including from the UAE, Morocco, and other countries, described as a "huge vote of confidence in the future." Last year, Medved showed up at an event in Saudi Arabia [Davos in the Desert], leading to speculation that Saudi could be the next country to join up with OurCrowd's expanding ecosystem.
"The Abraham Accords are now facilitating significant progress on technology, business, and investment between Israel and its Arab neighbors and we are proud to be playing a catalyzing and facilitating role in this remarkable development."
Dr. Sabah al-Binali, Executive Chairman and partner of OurCrowd Arabia, said that while building a relationship takes time, a whole other market has just opened up, and they are "getting to know each other" as deal flow now moves both ways, including a $60 million investment for an AI subsidiary in Abu Dhabi.
While local media posed questions on political issues and the possible impact on Israel, OurCrowd focused on the positive, sticking to its mission of being a primary source of funding for the innovation nation as well as promising ventures from around the world.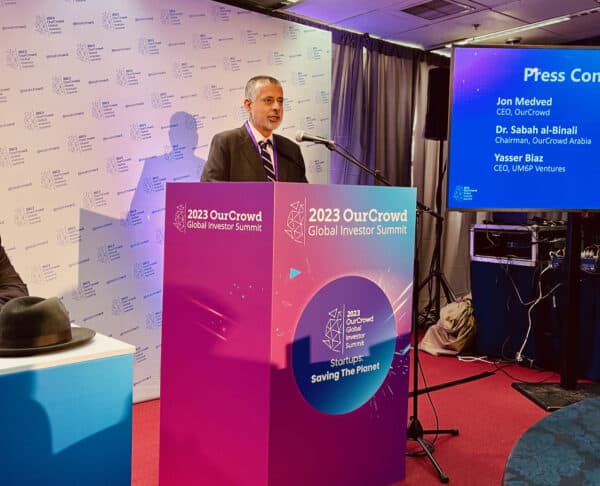 Sponsored