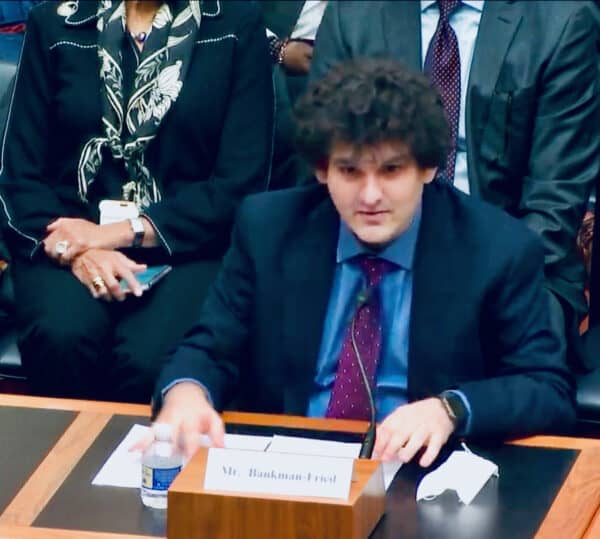 FTX founder and former CEO Sam Bankman-Fried has been found guilty Thursday (November 2, 2023) on all seven counts that are related to fraud as well as money laundering.
Bankman-Fried was indicted on fraud charges on December 22, 2022, following the collapse of his crypto exchange FTX.
At that time, US Attorney Damian Williams said billions had been lost due to the criminal activity, explaining that "this was not a case of mismanagement or poor oversight but of intentional fraud, plain and simple."
Sam Bankman-Fried is now facing as many as 115 years in prison for stealing billions of dollars in user funds from his now-defunct crypto exchange, FTX, with a portion of the assets going toward luxury real estate, various investments, loan repayments, and even large political donations.
In closing statements made on Wednesday (November 1, 2023), the prosecution said that Bankman-Fried intentionally took the money, "he knew it was wrong, he did it anyway."
The defense team said that user funds had been lost because of poor management as well as inadequate oversight and not due to any kind of criminal activity.
The conviction may now be appealed, however, not until sentencing, which the Judge has now scheduled for March 28, 2024.
Sheila Warren, CEO of the Crypto Council for Innovation, commented on the Sam Bankman-Fried verdict.
She noted that this case was "always about fraud, and this outcome confirms that the jury understood who and what was on trial here."
She added that the jury heard evidence "that Sam Bankman-Fried was out for himself, and that's reflected in the verdict."
Warren also mentioned that this case "serves as a reminder that rules that have existed for a long time created a path to accountability for these crimes."
Warren concluded that her hope is that we can "turn the focus to the victims here rather than continuing to give airtime to the latest person who committed one of the oldest crimes on the books – fraud."
Notably, Sam Bankman-Fried has been convicted of defrauding the clients, lenders, as well as high-profile investors of FTX. Case prosecutors have referred to the case as "one of the biggest financial frauds in US history."
Bankman-Fried was also found guilty of two major crimes: wire fraud on lenders and customers of FTX, along with conspiracy crimes, which include conspiracy to carry out wire fraud charges as well as commodities fraud, securities fraud, and money laundering.
SBF now faces a possible sentence of life behind bars.
While the verdict was being delivered, Bankman-Fried's father, Joseph Bankman, was sitting anxiously; meanwhile, SBF's mother, Barbara Fried, was seen holding her head down nervously. The couple had reportedly been present for the trial on most days. As the jury left the courtroom, SBF's parents were seen embracing each other.
SBF's parents also waited for their son behind the courtroom divider; however, the disgraced former FTX CEO was quickly escorted out of the room. Around halfway out of the courtroom, SBF reportedly turned back while also smiling at his parents.
Following the guilty verdict, SBF's lawyer, Mark Cohen, said they "respect the jury's decision."
However, he also said they are "very disappointed with the result." And that Bankman Fried "maintains his innocence and will continue to vigorously fight the charges against him."
As widely reported, SBF's crypto businesses collapsed in spectacular fashion just a year back following key revelations related to the operations of the FTX exchange, which SBF was responsible for leading. In addition to these issues, trading firm Alameda Research, which SBF had co-founded and owned, was also unable to recoup from a giant hole in their outstanding balance sheets, which saw clients lose billions of dollars overnight.
SBF had then been taken into police custody while in the Bahamas. Following his arrest, he was extradited to the United States to face criminal charges.
The former FTX CEO had been in jail during the duration of the trial once his bail had been revoked in August of this year. This, as case prosecutors alleged that SBF had engaged in intentional witness tampering by reportedly leaking the private details of former colleague Caroline Ellison to the New York Times while making use of encrypted messaging apps. Attempts had also allegedly been made by Bankman-Fried to make contact with a witness(es).
SBF had also taken the stand during the trial, but his testimony was not effective when it came to motivating the jury to acquit him of all charges.
Bankman-Fried reportedly said that he believed until the very end that Alameda and FTX may have been saved.
He acknowledged that he did, in fact, make mistakes while admitting that FTX did actually have a "lack of oversight," however, Cohen claimed that bad business moves were not really a crime.
Meanwhile, case prosecutors, as part of their concluding remarks, pointed out that SBF had been acting as a knowing co-conspirator in the massive fraud. The prosecutors also cited the testimony of former FTX executives, including Ellison, who had been working as the Chief Executive Officer of Alameda Research, as well as the testimony of ex-FTX CTO and co-founder Gary Wang and ex- Head of Engineering Nishad Singh.
All these statements are considered to be evidence that Bankman-Fried had actually known a lot more than he claimed regarding his company's financial condition. The alleged co-conspirators have pleaded guilty to a number of charges and they are still awaiting sentencing for their crimes.
As confirmed during the court trial, Judge Lewis Kaplan has now scheduled sentencing for March 28 of next year.
SBF's legal team may choose to appeal on a few issues. One is on his limitations on his ability to provide a presence of counsel defense, as well as another on the Judge permitting a pre-testimony hearing during which the government had been able to question the ex-FTX CEO, stated Samson Enzer, partner at Cahill, Gordon & Reindel.
Bankman-Fried also faces five additional charges in a trial presently set for March 2024, which include fraud on FTC clients as it is connected with the trading of derivatives, securities fraud on FTX investors, and conspiracy charges, including bank fraud, managing an unlawful money transmitter business, and violating the bribery statute of the Foreign Corrupt Practices Act.
Should the US government move forward with these other charges, the court may look into holding off on sentencing. But Enzer added that it is possible the government would decide to drop these other charges and/or look for another way to address them.
David Lighton, Founder and CEO at Diameter Pay, said:
"To all my friends in the fintech and payments areas, I breathe a public sigh of relief that this man — who in NO WAY represented the aims or dreams of fintech — was convicted. To anyone else in the industry putting in your time and good faith effort to meet your regulatory and compliance obligations, you know even that often isn't enough. We don't need this stereotype applied to the whole sector. And, although it is sad to see a very bright mind and another MIT alum's life take this turn, I believe it's obviously right. We need to get back to work on building a better financial system. And, to do that, we have to separate the bad actors from the round pegs in the square holes…and not punish a movement and generation of innovators."