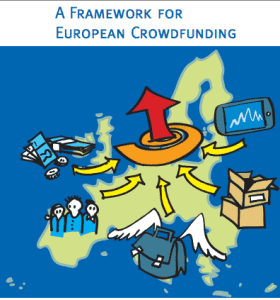 The recently released document put together by a cadre of European academicians has quickly become a must read for the policy leaders of the domestic Crowdfunding industry.
Matthias Klaes, Professor of Commerce from Keele University in the UK opens the discussion by quoting Schumpeter and the "gales of innovation" which can be unleashed to open up new forms of economic growth as part of the innovative destruction process. Quite correctly Professor Klaes recognizes Crowdfunding as a disruptive opportunity in funding of small businesses.
The framework states that 99% of all businesses in Europe are small and medium enterprises (SMEs). It is an objective of the European Commission to promote Entrepreneurs and improve the environment for SMEs to grow and thrive. Yet the financial crisis of past years has stymied these goals. Decline in venture capital and rigorous regulations on banks have damaged the capacity at which new business ventures may raise funds.
It is within this environment of challenging economic hurdles that change may occur. The European Framework concisely states, "we believe the crisis provides an opportunity for much needed change. Change, albeit disruptive, if managed well, is a guarantor for innovation." Bravo.
This document highlights three areas of focus:
Regulation with an emphasis on transparency.
Education and the need for knowledge transfer for all parties; entrepreneurs, funders, and other stakeholders.
Research for ongoing appraisal of the Crowdfunding industry.
Crowdfunding is not uncharted territory as many portals in many different countries are live today.  Presently the Securities and Exchange Commission (SEC) in the United States is dedicated resources to anticipate some of the scenarios which have already materialized in Europe.

CrowdfundInsider will be watching with great anticipation the forthcoming changes on the European continent. The opportunity provided by Crowdfunding in creating a new generation of European entrepreneurs – has never been more needed.

Sponsored Links by DQ Promote