As I shake off the foggy end to 2012, it is the time of year when resolutions come to mind.  The more I sit in front of the computer screen, the greater I fear that I will begin to resemble a developer (no offense to developers whom I hold in utmost esteem).  What a better way to refocus than to review some crowdfunding campaigns which have the potential to help achieve my personal goals.   Below is a list of just a few which may have potential in 2013.
Climbstation: Sport Climbing Available Like Never Before
This comes from the Crowdfunding site Invesdor.  The project is an equity offering of 4.35 – 7.56%.  Based in Finland, Climbstation is most certainly a product for those in need of a superb cardio vascular jolt.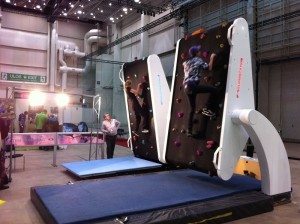 Climbing as a sport has been challenging to arrange indoors. It requires a reservation and skilled personnel to guide with ropes and harnesses. Plus a high ceiling which eventually raises the costs and bar to begin or even try this natural and healthy sport.
Imagine a quality product that has a state-of-the art user interface and dimensions of a climbing wall can be installed in a normal gym, sports hall or even private premises.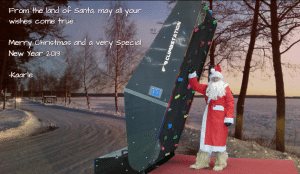 The Climbstation campaign ends on February 20th so you have plenty of time to think about this one.  They are targeting 50,000 to 9,000 Euro Investment.  €14,395 raised to date. You have 49 days left to invest so please do not procrastinate.
Gravity Centered Golf: Zero Torque Golf Clubs
This product is from team Indiegogo.  Golf has never quite been my sport.  Actually more the extreme.  I havevowed never to play golf again until I can actually hit the ball straight. Crowfunding may now be my (and perhaps yours) saviour.  What is a Zero Torque Golf Club?  It is designed to make you hit the ball straight! If this is actually true maybe they should not be crowdfunding on Indiegogo but maybe some sort of crowdfunding miracle site.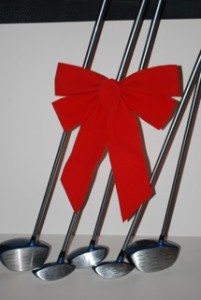 Current golf club design principles originated in the early 1800's. The asymmetrical design produced by attaching the shaft to a corner of the club head produces an inherent torque around the attachment point.The result is that it is easy to hit the ball far but difficult to hit it straight. We think the time for change is long past due. 
 Our design moves the shaft attachment point so that zero torque is produced, resulting in more shots in the fairway, and makes it far easier to hit straight from difficult lies. 
Based in Minneapolis, Minnesota Gravity Centered Golf has a goal of $20,o00 with 93 days left to go in their campaign.  For a mere $79 you may be a proud owner of this magical club.  Scheduled delivery in March just in time for the new golf season.
Jive Bike from JAM Vehicles: Hybrid Bike in Cool Commuter Style
JAM is crowdfunding on the leading UK Crowdfunding site CrowdCube. What is a hybrid bike you ask?  Well you have the option of peddling away to your hearts content (and benefit) or you have the option of switching on the electric motor during the hotter days.  Commuting on a bike in any large city can be a challenge. Arriving to theoffice a sweaty mess is no fun at all but now you can have the best of both worlds with the  Jive Bike.  Skip the odiferous masses packed on the tube and bike to work!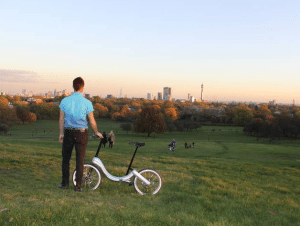 JIVE is the smartest and smoothest city bicycle ever created, designed for city commuters. Aiming to liberate them, differentiate them from crowd and offer a convenient alternative to currently existing commuting options…we believe that we know how to bridge the gap that cycling needs to overcome – from an alternative to a mainstream commuting manner. 
The Jive also has a docking station to charge and use your smartphone on the handle bars.  I am sold.
JAM is offering 15% equity in their company targeting a goal of £125,000.  Full financials available on the site. They are also planning a soft launch on Kickstarter at a later date.
Active Desk: For the Masters of "Active" Multi-Tasking
Simple enough to pedal to work – just talk to the Dutch – but can you peddle while you work?  Boy this could solve a lot of my challenges.  As I am certain many readers will understand work is never ending task.
Unfortunately if you are hacking away at a computer most of the day, you are not burning too many calories.  Problem meet solution:  Active Desk crowdfunding on RocketHub.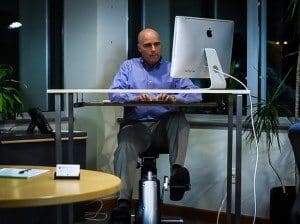 Active Desk, which provides a way to exercise while working at your desk…all day long! You could lose 2-5 pounds per month by gently pedaling your legs while you work. Pedaling becomes a habit; soon, you don't even think about it; your are just burning calories while you work. 
For only $1500.00 you can be the first person on your block to own an Active Desk (Limited Supply).  Crowdfunding campaign has over 50 days left.  Goal is only $10,000.

If you have any favorite projects for New Years Resolutions 2013 – please be certain to share them with us at Crowdfund Insider.  You may email us at [email protected].  Happy New Year to all!

Have a crowdfunding offering you'd like to share? Submit an offering for consideration using our Submit a Tip form and we may share it on our site!

Sponsored Links by DQ Promote