UPDATED:
In an early version of this article it was indicated that Enviu held the Dutch record for funds raised but it was pointed out (rightly so) that Enviu is in the number two position.  SellAnApp holds the record for raising funds on Symbid crowd funding € 150,000.
SellAnApp has recognized that the total Market is estimated to be worth over $25 billion and the average revenue per app is around $4.3K and growing. The business is described as;
A place on the web where everybody can make their ideas for mobile mobile apps a reality. With SellAnApp you can become a producer of apps with all the creativity, knowledge and funds you need available at your fingertips.
SellAnApp raised their funds from 261 investors.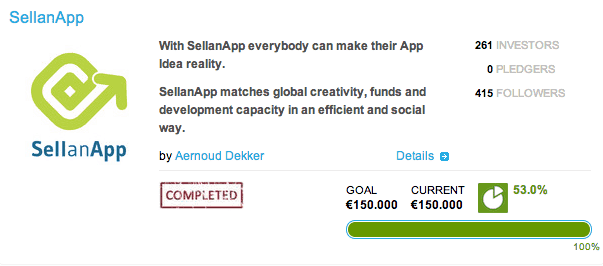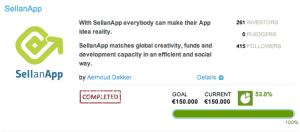 Enviu, a sustainable business developer from the Netherlands, was able to attract 372 investors from all over the world raising € 100,000 on Symbid.
Enviu will use the  €100,000 Euro to invest directly in new start-ups. This success shows the promise of using crowdfunding as way of raising capital for small companies.

Symbid is an international crowdfunding portal that allows equity investments from individuals.  The consider their platform a white label product bringing entrepreneurs and investors together.
Sponsored Links by DQ Promote