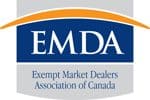 The Exempt Market Dealers Association (EMDA) and Canada's Venture Capital & Private Equity Assocation (CVCA)  are scheduled to hold an event focusing on the emerging industry of crowdfunding in Canada.  The event, Crowdfunding in the Canadian Context, will take place at the Ontario Investment & Trade Center on February 12th.

The EMDA is a non profit entity which was founded in 2002 by Canadian business leaders who were active in the exempt securities markets.  Their objectives largely focuses on assisting members with their regulatory responsibilities and to be the voice of market dealers nationally by interacting with government agencies, other associations and the public at large.
The CVCA represents Canadian Private Equity and Venture Capital Industry.
Those interested in registering for this crowdfunding event may register here until February 12th.