Sure, we all believe that youth must be served, but are you willing to invest in their future — literally?
Crowdfunding platform Upstart, which launched in October, lets recent college graduates raise cash from online backers, who in return get a slice of their income for the next 10 years.
The money is meant to help young people pay down their debt or bankroll an otherwise out-of-reach dream, such as launching a business or developing an artist portfolio. It's also designed to score investors a 6 to 8 percent annual return, according to founder David Girouard, the former head of enterprise at Google.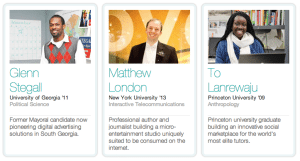 Using information such as grades and standardized test scores, Upstart calculates the amount of money a person can raise on the site for every 1 percent of his income offered — the sweet spot is somewhere between 3 and 4 percent, says Girouard, with typical loan amounts ranging from $20,000 to $30,000. Returns are capped at 15 percent.
Read More at NYPost