The Amiigo Fitness bracelet has been covered here on these pages but also in many other news publications.  Hailed wide and far as a crowdfunding success for the tech arena, Amiigo still has 7 days left on their crowdfunding campaign with over $490,000 raised.  The project leaders have raised their objective not once but twice.
Amiigo launched their project on Kickstarter earlier this year with a target that seems paltry in retrospect.  They raised over $85,000 in just two days from launch.  The promise of the project was great.  While there are other fitness bracelets on the market already, Amiigo wanted to redefine fitness tracking.  Their product can differentiate from types of work outs; tracks heart rate, blood oxygen levels, skin temperature, overall activity level, and calories burned; and syncs with your iPhone or Android device.  Of course you can share your fitness progress with your friends – or the world if you want.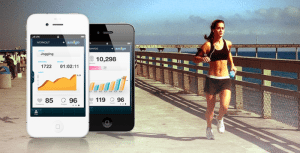 So Amiigo had undeniably found a niche for success.  Demand and excitement over the features and design of the product were enormous.  But how did they take a $90,000 goal and turn it into a $500,000 home run?  They leveraged the viral nature of initial success and pyramided it out to create Amiigo champions of all their backers.
Over three weeks ago they hit their first stretch goal of $350,000 crowdfunded but instead of preparing for the victory lap – they pressed the accelerator and raised the bar once again, adding 15 days to the campaign, and setting another $500,000 stretch goal.  This time they created a competition – giving away free Amiigos to he highest referrers of their crowdfunding campaign.  They created competition rules which created a point system for different types of marketing engagement.  Why pay for PR when your customers are willing to do the heavy lifting:
You guys are incredible! With your help we crushed our $350k goal! We have now decided to launch a $500,000 stretch goal and give away 15 FREE Amiigos to the HIGHEST REFERRERS of our campaign.

COMPETITION RULES:
The rules are very simple and anyone worldwide can participate. We are giving away 15 FREE Amiigos to the top 10 highest referrers of our campaign. The FIRST PLACE referrer wins 5 FREE Amiigos, second place wins 2 free Amiigos, and 3rd through 10th place win one Amiigo. Finally, we've added 15 days onto our campaign so that we can have future competitions and stretch goals. This friendly point competition will last one week and the winners will be announced on 02/27/2013.

1. TECH BLOGS: If you present Amiigo to a popular tech blogs, and an article is published, we will give you anywhere between 5-100 points! This includes discussion groups, forums and more. 100 points will be given if it is a very popular website like Science Daily, PopSci, IEEE, Wired, BuzzFeed and many more! Email us the LINK to the URL of the article at [email protected]. Be creative in your postings! Creativity gets up to 2X bonus points.

2. NEWS ARTICLES: If you present Amiigo to popular news agencies or publications like Yahoo News, NBC, BBC, WSJ, New York Times, Huffington Post, etc and an article is published, we will give you anywhere between 100-500 points!

3. FITNESS ARTICLES: The same goes for fitness blogs, if you present Amiigo to a popular fitness website like Men's Health, Women's Health, Men's Fitness, Fitness Magazine, Bicycling, Muscle & Fitness, Shape, Runners World, Triathlon, etc and an article is published, we will give you anywhere between 100-500 points!
The top "point generator" (Ravi J.) garnered 2700 points with 61 posts published thus receiving 5 free Amiigos.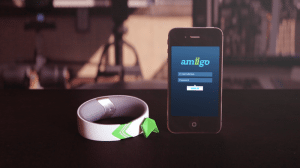 The Amiigo crowdfunding campaign finally winds down the 15th of March.  The entire Amiigo team certainly deserves much praise for achieving such grand crowdfunding success with their compelling product. But there is a lesson here for other future crowdfunders about the importance of the crowd and the necessity to enlist those you already know – via social and traditional methods – but to also to reach out and touch each supporter and create a mutual bond of shared success.
Have a crowdfunding offering you'd like to share? Submit an offering for consideration using our Submit a Tip form and we may share it on our site!