The film crowfunding project started today with a goal of $2 Million to fund the project – Veronica Mars. With 30 days remaining in the campaign to reach the $2 Million goal – those additional days will not be necessary.  Veronica Mars successfully crowdfunded in less than 24 hours.   Surpassing its goal earlier today  and moving higher as the funds continue to roll in.  Over 36,000 backers have donated $1 and up to support this cult favorite staring Kristen Bell.  Most certainly this is a crowdfunding record of some kind.
The Kickstarter project was was created by Robert Thomas the creator and executive producer of Veronica Mars.  In a statement on Kickstarter he explained why he decided to try crowdfunding his film:
Almost since Veronica Mars went off the air, there's been talk of making a movie. In that span, I've taken different tactics in dealing with the question of whether it might happen. To be clear, I've always wanted to make a Veronica Mars movie. I love writing these characters and working with these actors. Kristen Bell has always wanted to make the movie…

…I first found out about Kickstarter a couple of years ago from an Austin musician friend of mine — Robert Harrison, lead singer of Cotton Mather, the band that gave us "Lily Dreams On," our closing song of season 1. He financed a rerelease of the band's fantastic Kontiki album. Later, I was marveling about Kickstarter with another buddy of mine who said off-handedly, "You should use Kickstarter to raise the money to make the Veronica Mars movie." I chuckled. That seemed like a silly idea in the moment. We'd need millions. But for the next few weeks, the notion was never far from my mind. I started doing the proverbial back-of-a-cocktail-napkin math. The average pledge on Kickstarter is $71. Hell, if we could get 30,000 people to give the average donation, we could finance the movie, particularly if the cast and I were willing to work cheap. The most common donation amount on Kickstarter is $25. Surely, 80,000 of our three million viewers would find that price-point viable! 
Supporters of the project quickly scooped up the various levels of rewards.  For $10 a backer receives a PDF of the script delivered the day of the release.
The higher tiers were sold out or selling out quickly.  The top reward, requiring a donation of $10,000.00, included a speaking role in the film.  This was long gone as were all the other higher level rewards.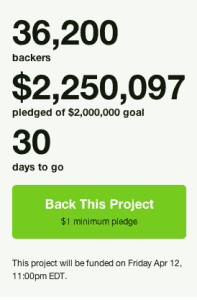 Crowdfunding has impacted many industries.  The film industry is a highly commercial and visible business.  Successful, high profile, film crowdfunding projects like Veronica Mars will only burnish the luster of funding films via this disruptive fashion.  Just this year multiple crowdfunded films were in the running at the Academy Awards with one crowdfunded film, Inocente, bringing the Oscar home.

Perhaps we are entering a new, golden era of films.  Both blockbusters and independent – financed by crowdfunding.

Have a crowdfunding offering you'd like to share? Submit an offering for consideration using our Submit a Tip form and we may share it on our site!

Sponsored Links by DQ Promote