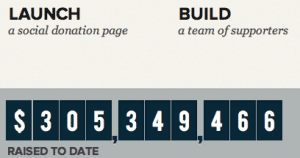 Fundly, a crowdfunding for good platform, today announced a series of new features, partners and initiatives to bolster the success of "Run-Walk-Ride" charity fundraising events. Fundly was a featured presenter at last week's 2013 Run Walk Ride Fundraising Council Conference, the largest annual gathering of athletic event fundraising organizers, and serves as the crowdfunding platform for charity run, walk, bike, swim and dance-athons, as well as a myriad of other athletic fundraising events, across the country.
Fundly's announcements include:
New event registration and ticketing features that make it faster and easier than ever for Run-Walk-Ride volunteers and organizations to launch fundraising campaigns on Fundly's platform for their charity run, walk, bike and swim-athons, and other athletic events.
Teaming up with Charity Dynamics, Fundly's newest Premier Partner, to create and launch customized, integrated crowdfunding campaigns on Fundly's platform for the country's top Run-Walk-Ride fundraising event programs.
New Run-Walk-Ride customers using Fundly's platform, including the Cleveland Marathon, Indiana University's "Little 500" bike race, NASCAR driver Ryan Reed 's "Drive to Stop Diabetes" for the American Diabetes Association, Teach for America's Mississippi Marathon and more than 75 "Color Me Rad" 5k Runs nationwide.

"Anyone who has ever run, walked or biked for charity knows that the fundraising process can often be more painful than the physical training for the event itself, but Fundly has changed the game for athletic event fundraising," said Dave Boyce , Fundly CEO. "Thousands of individuals, volunteer
groups and nonprofit organizations are using Fundly for their Run-Walk-Ride events, and we'll continue to enhance Fundly's platform to make athletic event fundraising as easy, successful and enjoyable as possible to help more people give more."

To date, Fundly has enabled more than 30,000 campaigns led by individuals, volunteer groups and nonprofit organizations of all sizes to collectively raise more than $305 million for their causes.

Sponsored Links by DQ Promote