Google has launched a crowdfunding app called "One Today" that adds a philanthropic crowdfunding layer on top of their Google Plus social network. I recently had a chance to try the app.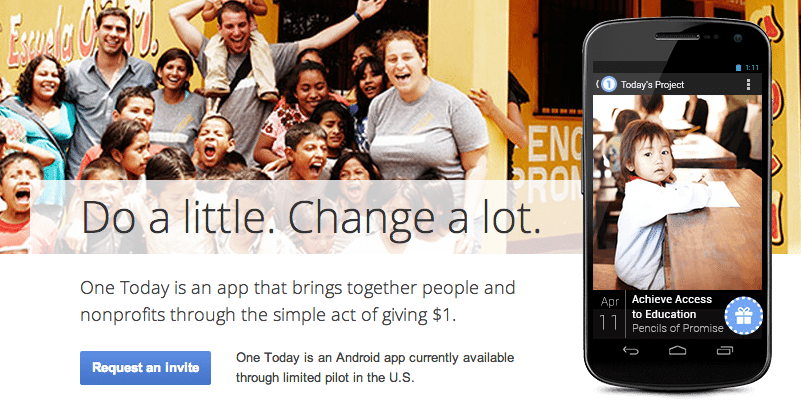 Every day I get a notification on my phone for the day's cause. One Today selects a cause and I can quickly and easily pledge a dollar to it from my Google Wallet account. One of the cool things about the app is that it pays attention to the causes you're backing and tailors the future experience based on your pledging history. (Are you taking notes portal owners?)
One of the other awesome features is that there is 100% transparency regarding how that dollar is spent. Transparency is provided in simple to understand terms. For example, $1 = 2 trees planted. No mystery there.
Every day you can either pledge $1 or pledge to match the donations of others up to $10. If you pledge to match, your Google+ profile picture and real name may appear on other users' apps with a notification that you've pledged to match their contribution today. In this way One Today is quite innovative, using social media to entice pledges by letting users know that their contribution will essentially be doubled by a real person with a real picture and a real name.
As far as impact goes, the app doesn't seem to be lighting the world on fire just yet but it is less than a couple of weeks old and still in invite-only mode. Once you contribute to a campaign you get to see how much money One Today has generated for the project. As an example, The American Indian Foundation's Survivor Tree Project has raised $469 to date, which should result in 938 trees being planted.
As far as usability is concerned, the app is incredibly slick on Android 4.1. It is without question one of the best user interfaces I've seen on a Google-branded app. It feels very unique and simple to use.
Google has always had a philanthropic tilt and this app seems very much in line with the culture of the company. There are some definitive cues that other crowdfunding sites can learn from here. I highly suggest industry stakeholders download the app as there are features that could make their way into other crowdfunding platforms down the road.