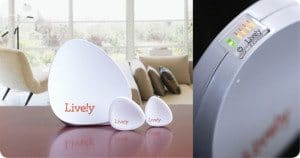 Welcome to a new era of crowdfunding, where the "crowd" part is more important than the "funding."
Before "smartwatch" became a household term, the makers of the Pebble watch had been rejected, repeatedly, by investors. When the project's Kickstarter campaign exploded, VCs were suddenly desperate to invest, not just in the Pebble watch, but in any promising crowdfunded project. Kickstarter once hosted VC rejects; today investors lurk on the site looking for new deals.
But now, the power of Kickstarter has gone a step further: Companies that have already raised venture capital are using the platform. The latest example is Lively, a cellular hub with sensors designed to help independent senior citizens stay in contact with loved ones without requiring an Internet connection.
Yesterday Lively announced its Kickstarter campaign to raise $100,000. The campaign comes just three months after the company raised $2.5 million in Series A funding from Maveron, a Seattle-based venture capital firm. With $2.5 million in the bank, Lively does not need another $100,000. So why go to Kickstarter?
Read More at PandoDaily