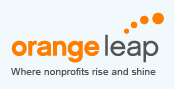 Orange Leap, a developer of cloud-based fundraising and constituent relationship management (CRM) software, has announced today their partnership with give2gether to enable online fundraising and peer-to-peer campaigns for non-profits using Orange Leap CRM software.
Orange Leap clients can now utilize give2gether's platform to promote their cause by communicating with their constituents. give2gether's unique approach to online fundraising helps non-profits monetize their social media interactions, grow their community of supporters and raise more funds. Acknowledgements and funds generated are distributed automatically alleviating additional work.

"Orange Leap's non-profit clients can take advantage of give2gether's powerful online fundraising technology coupled with their Orange Leap donor management system," said Kent Hollrah , President of Orange Leap. "Our clients simply add a 'donate now' button to their website, or launch turn-key social fundraising campaigns throughout the year. By partnering with give2gether, clients can have all their fundraising needs met, including email, social sharing, cause related campaigns, walkathons and team events."
Arnon Shafir , CEO and Co-founder of give2gether said "We created a 'do-it-for-me now' button to let nonprofits instantly create custom campaign pages that are compelling, simple to share, and generating better results. Our expertises in campaign optimization help nonprofits triple their donor conversion rates. Automated deployment takes less than 10 seconds to get started.