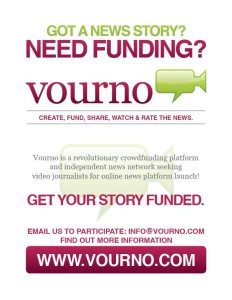 The much anticipated journo crowdfunding site Vourno is on track to launch live on Monday, according to a recent tweet from their twitter account.
Vourno hopes to be world's largest funding platform and independent news network for video journalism.  A crowdfunding platform where news is funded, produced and distributed openly and the crowd decides how newsworthy – or important the product is.
Vourno will provide journalists with the tools to raise capital for the creation and production of newsworthy content. Funded projects will be produced and premiered on the Vourno  news network.
From a quote on their site;
We believe the profession of journalism is evolving. Now more than ever journalists needs to become multi-faceted and create their own stories through video. They need the technical skills and tools to create an entire news story from the ground up handling all the different jobs that go with producing a news story from start to finish in addition to sharing what they created.

Many news industry participants have commented on the drastic shift to drive page views and clicks have decimated the availability of high quality, investigative reporting.  As many legacy media companies have raced to reduce costs – as subscribers and viewers moved to digital environments – newsrooms have turned into shells of their prior prominence.  Vourno will attempt to address this challenge by providing the resources and platform which original reporting can thrive.
Vourno is operated by an experienced team of 9 professionals  inspired by a shared ambition  of democratizing the news and changing the entire news landscape for years to come.