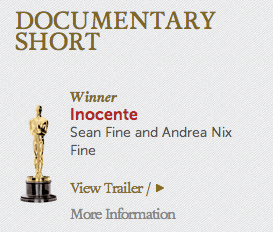 Project: Inocente
Funding goal: US$50,000
Amount raised: $52,527
Kickstarter backers: 294
Key takeaway: Know how much you need
Husband and wife directorial team Sean Fine (pictured above, right) and Andrea Nix Fine (left) were in post-production on their 39-minute doc Inocente when they decided to turn to Kickstarter for help.
The film (pictured below), which focuses on a young homeless girl who harbors dreams of becoming an artist, picked up the Oscar for best documentary short in February this year, and had early funding from MTV and Epix.
"We thought about doing Kickstarter at the beginning of the process, but decided to hold off until we had more of a complete project," recalls Sean Fine.