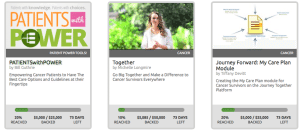 HHS Announces Finalists in Crowds Care for Cancer: Supporting Survivors Challenge First Challenge for Post-treatment Cancer Care
The three finalists were announced today at HDI IV: Health DataPalooza by Abdul Shaikh, Program Director, National Cancer Institute in the first challenge focused on uncovering new tools to help cancer patients better manage their transition from oncology specialty care to primary care. Each team was awarded $5,000 by the Office for the National Coordinator for Health Information Technology (ONC), and will compete for a first prize of $25,000 following being posted on healthcare crowdfunding platform MedStartr.
The top three finalists proposing innovative solutions for cancer survivors include: 
Medable
JourneyForward
PatientsWithPower
The second phase of the challenge now begins. All three projects have been posted on MedStartr, the healthcare crowdfunding portal, where they will vie for support and seek public feedback to optimize their application proposals. Medable, JourneyForward and PatientsWithPower will develop working prototypes of their application to submit before the final deadline of July 12. These entries will be reviewed by a diverse, expert judging panel.  The winner is expected to be announced in August.
"Crowds Care for Cancer is an excellent example of the administration's efforts to foster open innovation. It enables us to spotlight areas of health-related technology where there's an opportunity for new insights and approaches,"  said Adam Wong, Management and Program Analyst for the Office of the National Coordinator (ONC).

"Despite significant advances in cancer care, there remains a tremendous need to help the 14 million plus annual cancer survivors manage their health after they have completed their specialty care,"  said Abdul Shaikh.
With the support of the National Cancer Institute, part of the National Institutes of Health, ONC launched the "Crowds Care for Cancer: Supporting Survivors" challenge in April as part of ONC's Investing in Innovation (i2) program. The i2 program, managed by Health 2.0, utilizes prizes and challenges to facilitate innovation and obtain solutions to intractable health IT problems. The applications submitted by the three teams of finalists will be judged on their potential to enhance the health and healthcare experience of cancer survivors.