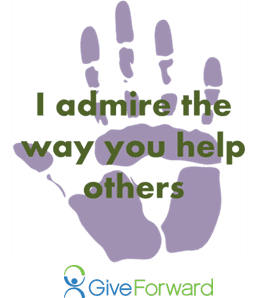 GiveForward Announces Alliance with OncoNav of NextPath, LLC
Strategic Partnership Provides New Resources to Help Those Battling Cancer
GiveForward, the leading crowdfunding site helping families and friends raise money for a loved one's medical bills, is pleased to announce a new partnership with NextPath, LLC, provider of OncoNav Nurse Navigation Software, a software platform designed to help Nurse and Patient Navigators schedule, track, organize and report their interactions with patients.
"Providing the tools necessary for Nurse and Patient Navigators to educate their patients on available resources and assist them in taking actions to overcome any challenges that they face is at the core of why we developed OncoNav"

"At GiveForward, our mission is to 'Create Unexpected Joy' for families by giving them a platform to join together in support their loved ones during times of medical crisis," said Desiree Vargas Wrigley, CEO of GiveForward. "By partnering with OncoNav, we hope to raise awareness for professionals and patients alike about the tools available to meet financial needs for those struggling to beat cancer."
GiveForward will be offered to Nurse and Patient Navigators through OncoNav in an effort to assist patients with financial challenges stemming from a cancer diagnosis.
"Providing the tools necessary for Nurse and Patient Navigators to educate their patients on available resources and assist them in taking actions to overcome any challenges that they face is at the core of why we developed OncoNav," said Jim Hendrickson, President of NextPath. "Through this partnership with GiveForward, we extend our commitment to put as many resources as possible into the hands of professionals that are working tirelessly to help every cancer patient win their battle against the disease."
According to a new study from Duke University, cancer patients often shy away from talking about treatment costs. However, those who bring up financial concerns frequently find that the discussion ends up reducing their costs. The partnership between GiveForward and OncoNav is an important milestone in bridging this gap between medical professionals and patients.

Sponsored Links by DQ Promote