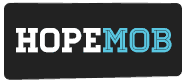 Convoy of Hope partnered with charity crowdfunding organization, HopeMob, which raised more than $46,000 to support Convoy of Hope's tornado disaster relief operations in Moore, Oklahoma.
"Partnering with HopeMob is another example how working together with like-minded organizations really helps to be able to provide relief to disaster survivors in their time of need," says Hal Donaldson, president of Convoy of Hope. "I'd like to sincerely thank HopeMob and the many people who contributed to them in support of our efforts in Oklahoma. Those funds are helping families recover from what has been a traumatic experience."
HopeMob, using the slogan "Crowdfunding with Compassion," utilizes the internet and social media to share stories of those in need to draw online financial support for each particular story. The organization raised $46,544 to support Convoy of Hope.

To-date, Convoy of Hope has dispatched more than two dozen tractor-trailer loads of supplies to Moore since the tornado hit and continues to provide help by coordinating volunteer teams in removing debris. Convoy of Hope will remain in the tornado-impacted regions through the recovery and rebuilding phases.