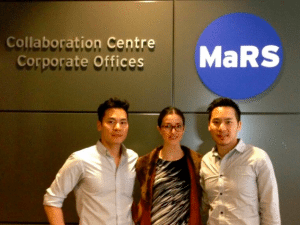 Giveffect, a charity donation crowdfunding site based in Toronto, officially launched after doing several months of a soft launch to prep their site.  Started by three entrpreneuer Allan Shin, Kevin Shin and Anisa Mirza they hope to encourage relationship building between donors and charities.
The platform integrates with social media, including Twitter and Facebook, to build donor engagement and maintain a continuous conversation between supporters and the campaign organizers.  Donors get recognized for their "Philanthropic Work" via their personal contribution page showing how much they have donated.

Supporters who are registered with the site can automate notifications to their friends and followers showing what organizations they have supported.  The Giveffect team hopes to turn supporters into advocates of the projects they contribute to.
It was reported the site had enlisted 100 charities during their soft launch but as of today they had 36 diverse campaigns using their crowfunding site.
Co-founder and CEO Anisa Mirza mentioned the challenge in keeping supporters engaged with charities is a difficult task – mentioning the statistics supporting her thesis.  Giveffect's mission is to fix this problem.
So, the next time we look at the stats, and begin to lament about how Canadian donors are commitment phobes, let's try and remember that perhaps the problem starts within. Maybe they aren't commitment phobes as much as your relationship with them is lacking healthy communication. We can reverse our donor commitment problem and the solution starts with revisiting and prioritizing our approach to donor interaction. In other words, if you want to keep your donors, you have to at least give them a reason to stay loyal.
Sponsored Links by DQ Promote