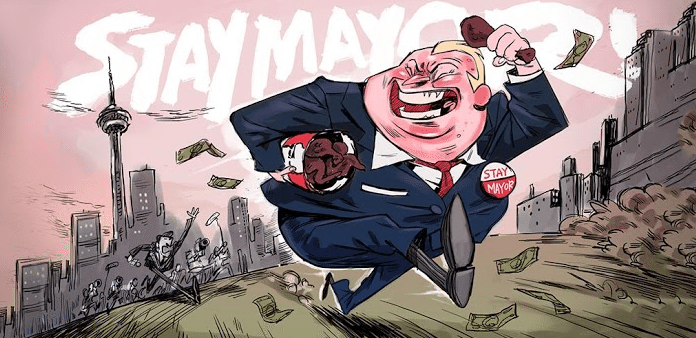 Oh, to be Rob Ford.
The now-infamous Indiegogo Crackstarter campaign has provided the inspiration behind a new Android game called "Stay Mayor". Players try to navigate a crazy world of paparazzi, crack pipes and money in order to get $300,000 and buy the video from the leaker.
Uh oh. Looks like the Mayor's in a buttload of friggin' trouble with that alleged video of him smoking crack! And who knows if it even exists, amiright? But juuust in case, why don't you help him collect a heap of cash to buy it before The Gawker does. Only your twinkle toes can out-maneuver the Blood Thirsty Media to help him collect more than they did in that damn "Crackstarter" campaign. $201,255 to be exact. And hey, everyone needs a little boost now and then, so make sure you collect power up buckets of deep-fried courage for more footballs to throw at life's problems… but make sure you avoid those pesky crackpipes!

Good luck trying to Stay Mayor! Go git em!

PS: Don't smoke crack.
The game was created by Extra Extra Games, a Toronto-based firm that allows gamers to "play the news" by creating timely games based on real-world events.

I had a chance to play the game a bit this morning and it's pretty entertaining. It's also free. For Android users, you can download the game at the Google Play store.

Sponsored Links by DQ Promote