WordPress developers Studio 164a have released their fourth WordPress theme on Themeforest, and this one is geared specifically for bootstrapped crowdfunding platforms running WordPress and the increasingly popular (and free) Astoundify crowdfunding plugin.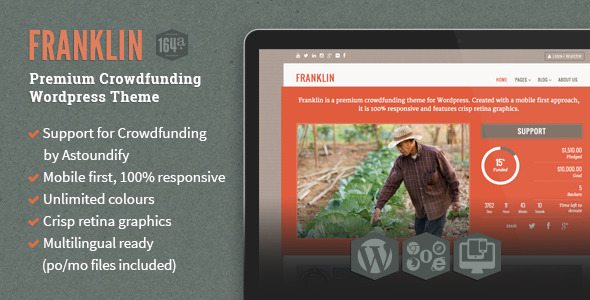 The Franklin theme professes to be fully responsive, so it should display nicely on tablets and smartphones right out of the box. The graphics are also said to be retina-ready, so no worries for your users with newer hardware. They'll get to experience crowdfunding campaigns in all of their retina display glory.
This is the fourth theme by Studio 164a. They have developed two other WordPress themes and one general website template, all three of which are highly rated (4+ stars) on Themeforest. They've sold just short of 300 WordPress theme licenses to date.
The theme is built to work with the off-the-shelf Astoundify crowdfunding plugin, but it isn't the only theme built to work with this plugin. We discussed more in a recent piece on WordPress solutions for crowdfunding platforms. Expect developers to continue to develop theme-based solutions for bootstrapping crowdfunding platforms.
A single-use license for the theme is currently available on Themeforest for $45. Expect to drop $2250 for an extended license.