Launching a crowdfunding web site on a platform like WordPress has become easier thanks to the efforts of a few good developers. There are plugins and themes that can get you up and running quickly. Below are some of those solutions.
IgnitionDeck
Plugin or Theme – $79
http://ignitiondeck.com/id/


IgnitionDeck bills itself as the "original crowdfunding plugin," but timeline aside this plugin also boasts over $7 million raised to date on sites using it. The team that made the plugin took things a step further and now offers a complete end-to-end solution built on top of the plugin as well.
Developers can integrate their plugin with a proprietary theme or bootstrap using one of their ready-made themes. PayPal and Stripe are both supported as well as a host of other third-party services.
You can see a demo of IgnitionDeck here.
Crowdfunding by Astoundify
Plugin – Free
http://wordpress.org/extend/plugins/appthemer-crowdfunding/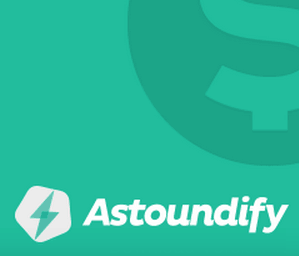 Crowdfunding by Astoundify is the plugin component of two products on the list by Astoundify, Fundify being the accompanying theme. Much like IgnitionDeck, this plugin provides an end-to-end payment solution. It also boasts support for easy digital downloads for quick delivery to backers buying digital rewards.
The plugin supports any traditional payment system also supported by the Easy Digital Downloads plugin, which seems to be just about all of them. For pre-approved purchases, the ubiquitous Stripe and PayPal support is there.
This is the only free item on the list which is probably part of the reason it has been downloaded almost 3,000 times..Those wanting to use this and bootstrap a crowdfunding site are going to have to roll their own theme or buy a compatible theme…
Fundify
Theme – $60
http://astoundify.com/fundify.html
Fundify is also made by Astoundify, who is also responsible for the first plugin on the list. Fundify is a full WordPress theme that works with their crowdfunding plugin to create a fully operational crowdfunding web site in a few hours. There are a handful of sites currently running deals that use this theme.
All of the essentials are there. The skin is mobile-friendly and has a robust backend both for administrating offerings and editing the details of the theme itself. Juse pair this theme with the plugin to accept payments via Stripe or PayPal.
Fundingpress
Theme – $55
http://themeforest.net/item/fundingpress-the-crowdfunding-wordpress-theme/4371069

Fundingpress is another fully functional theme that rolls in the payment piece via PayPal. The site administrator can choose whether project creators should have access to funds immediately or have to wait until the campaign ends. You can see a full working demo here.
The documentation on this theme is pretty solid and the development is active, both of which are good signs. At $55 it may be worth a look.
CrowdPress
Theme – $45
http://themeforest.net/item/crowdpress-a-crowdfunding-wordpress-theme/4639953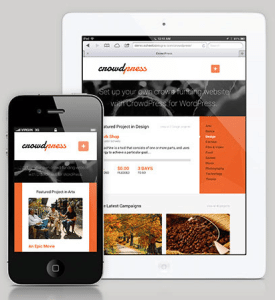 CrowdPress is a theme built to work with the free Astoundify plugin discussed above. For $45 it extends that plugin into a fully functional web site with an attractive UI. The theme is also built responsively so it works well on tablets and smartphones. Front end details can be manipulated in the theme's extensive list of options.

This is another solution that is under active development, although it hasn't been purchased as many times as Fundingpress at the time of writing.

Sponsored Links by DQ Promote