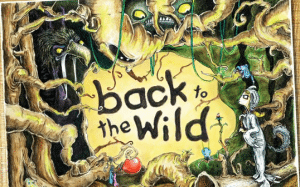 HarperCollins, who publishes Maurice Sendak's Where The Wild Things Are, has filed a notice under the Digital Millenium Copyright Act. That has forced Kickstarter to pull a project that aimed to bring an unlicensed sequel of the book to backers.
Geoffery O. Todd and Rich Berner had launched the campaign. The two UK-based illustrators were seeking £25,000 for a book entitled Back To The Wild. It was to be the spiritual successor to the original Sendak work and a tribute to Sendak himself, who recently passed away. Where The Wild Things Are was published just over 50 years ago and has been wildly successful since. As of 2009 the book had sold over 19 million copies worldwide.
The Digital Millenium Copyright Act was passed in 1998. Wikipedia explains the reach…
The Digital Millennium Copyright Act (DMCA) is a United States copyright law that implements two 1996 treaties of the World Intellectual Property Organization (WIPO). It criminalizes production and dissemination of technology, devices, or services intended to circumvent measures (commonly known as digital rights management or DRM) that control access to copyrighted works. It also criminalizes the act of circumventing an access control, whether or not there is actual infringement of copyright itself.
More proof that crowdfunding is serious business.
Hollywood Reporter posted a link to a cached copy of the original Kickstarter campaign page, and under the Risks and Challenges section the project creators pointed out that they had considered copyright violations in their proposal.
We have also been very careful not to impinge on Mr Sendak's copyright and have taken the necessary legal advice around this whole project. We fully acknowledge his wondrous creation and hope that our work takes the story forward in a respectful, engaging and creative way.
Kickstarter aggregates DMCA notices and publishes them on their site. The notice in question details HarperCollins' claim…
The infringing material is a proposal to create a "sequel" to WHERE THE WILD THINGS ARE, entitled "Back to the Wild," using the characters, scenes and copyrightable elements of the original work. Any such unauthorized "sequel" would clearly violate the Estate's right to create derivative works.
Sponsored Links by DQ Promote