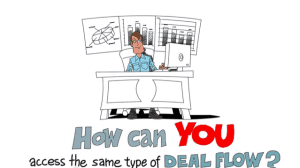 I-Bankers Direct is a new equity crowdfunding platform from a company that has been around for quite some time.  I-Bankers Securities started as a boutique investment banking firm in 1996 that has managed more than $6 Billion in transactions that went to small growth companies.   Now I-Bankers Direct is focusing on equity crowdfunding for accredited investors who may invest as little as $5000.00 into small growth companies – along side institutional groups.   The crowdfunding site is currently  gearing up to list their equity offerings with several deals in the pipeline while reviewing even more.
The ability to "promote" or advertise these offerings has been described as a game changer by many industry participants.  Allowing General Solicitation for private placements facilitates communication, connecting interested investors to companies in need of capital in an efficient fashion -and will soon be much easier to accomplish.
Mike McCrory, CEO and co-founder of I-Bankers reflected on the recent allowing of general solicitation in private placements;
We believe the changes in General Solicitation represent very good news, both for companies and investors. Obviously, when we're able to openly advertise a transaction, traffic on our platform will increase, which will help bring attention to ALL of the offerings on our site. On a related note, one of the sideline benefits of the new rules is that we will be able to "cross-promote" the various transactions on our platform. For example, if we happen to be representing several issuers in the technology space, we'll be able to improve marketing efficiency by promoting all of the deals to potential technology investors in the same communications.
I-Bankers is very aware of  the fact the number of potential accredited investors which may participate in private placements has been a relatively un-tapped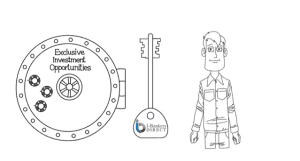 market up –  until now.
They estimate, as do many others, there exists around 10 Million potential accredited investors in the United States.  And most estimates indicate that only a small fraction of the potential investors ever participate in early stage funding.  With new technology, I-Bankers is looking to change that.
In 2012 recognizing the changing financial landscape and the efficiencies that technology  could render upon their industry, they launched their crowdfunding portal to allow investors access to the same opportunities they were giving to institutional investors. Now "retail" investors could participate in investments alongside institutional sized blocks.  Their sister company, I-Bankers Securities, is a broker / dealer so they are well prepped for the new crowdfunding world.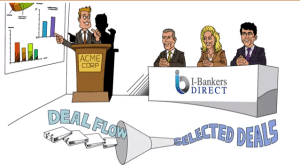 One of the value adds we plan to provide to our issuer clients involves helping them understand how to market their offerings in keeping with these brand new rules. We also expect that the changes in General Solicitation will greatly heighten public awareness surrounding the concept of an "accredited investor". We believe there are nearly 10 million accredited investors in the United States. However, it's likely that a very large percentage of these individuals are unaware of their "accredited" status and unaware of their ability to invest in private securities. Heightened awareness in this area is bound to help drive investing activity and, by piquing the interest of investors who are on their way to obtaining accredited status, build an investor pipeline of sorts.
I-Bankers Direct has recently been recruiting staff across the globe to capture a robust deal flow. With recent hires in Switzerland and in Silicon Valley, I-Bankers will be striving to capture high quality investment opportunities from around the world.

Sponsored Links by DQ Promote