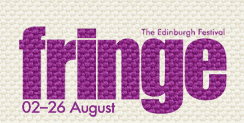 Crowdfunding Platform Sponsume Helps Fund More Than £40,000 for Edinburgh Fringe Festival Projects.  The Edinburgh Festival Fringe is the largest arts festival in the world and takes place every August for three weeks in Scotland's capital city.  The Festival traces its roots back to the Edinburgh International Festival formed in 1947, the Festival Fringe Society was formed in 1958.
Every year thousands of performers take to a multitude of stages all over Edinburgh to present shows for every taste. From big names in the world of entertainment to unknown artists looking to build their careers, the festival caters for everyone and includes theatre, comedy, dance, physical theatre, musicals, operas, music, exhibitions and events.  Sponsume a total of 40 Edinburgh Fringe Festival projects.   This is a 59% increase compared to 2012 in projects funded through the online platform for the festival.
Gregory Vincent, the French entrepreneur who started Sponsume in 2010 and has since seen it grow to become a leading crowdfunding platforms, said:
"We are delighted to have helped so many creative projects get the funding they need to take part in the Edinburgh Fringe Festival. These have ranged from heart-warming tales of a young girl's battle with depression, to what can only be described as the outright peculiar. But the theme is the same: These are creatives looking for investment and using Sponsume as a unique means to achieve it."
The funding targets for Edinburgh Fringe projects on Sponsume have ranged from £500 to £6,682 with a total of 1037 individual pledges having being made. The highest amount of money raised was by the 'Wot? No Fish!!' project, which previewed in London to overwhelming praise that made the team behind the production decide they wanted to take the show to Edinburgh Fringe Festival.
Gregory Vincent added:
"Sponsume has helped to fund either fully or partially just over 1,200 projects since its inception, almost exactly 3 years ago, and continues to grow. Crowdfunding is still a relatively new concept, but the chance for creatives to get projects in front of their fans and get the backing they need is making a big difference to events such as the Edinburgh Fringe Festival. This is significant when we consider that funding from the government and other groups is now often difficult to attain."
Sponsored Links by DQ Promote