Two campaigns crowdfunding now aim to fund projects that use bioluminescent microbes to light the home.
One is called the Biobulb, and it is seeking $15,000 on RocketHub. Three Wisconsin University undergraduate students launched the project as part of the Frontier Fellows program at the Wisconsin Institute for Discovery. At a reward level of $150, backers stake a claim to a bulb and the glowing microbial ecosystem to go in it. It's literally a just-add-water system that will incubate the microbes within the bulb and create a biological system that is said to glow in the dark.
Frontier Fellows Biobulb Project from Wisc Institute for Discovery on Vimeo.
The system will support a population of genetically engineered E. Coli. These bacteria will be transformed with a plasmid which contains the genes for bioluminescence. The result will be a stable, closed, microbial ecosystem that glows in the dark. We plan on experimenting with different bioluminescence proteins to determine which species' native genes produce the best glow in the E. Coli. We also plan to experiment with techniques to combat mutation in the plasmid, different colored light emission, and different triggers for the activation of the glowing bacteria.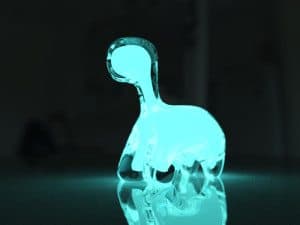 A second project crowdfunding on Kickstarter takes a similar approach, but wraps it in a package called the Dino Pet. It's a dinosaur-shaped nightlight geared towards children, and the campaign promises parents an opportunity to teach their children about biology.
To understand and to work with Nature is paramount to living more sustainably.  Harnessing biology to produce energy, medicines and entertainment is the future.  Before discovering a pet, we applied these awesome bioluminescent creatures in our bio light.  Our hope is the Dino Pet will inspire young minds to take an interest in biology and shape the way we live.  What will you create?
Yonder Biology has synthesized a specific microbe said to "grow quick, dense and maintain intense bioluminescence." They call these microbes "dinoflagellates," a specific type of marine algae the team says will photosynthesize during the day and glow brilliantly at night.
They're calling it "living art." The culture will live for 1-3 months, but the lifespan can be extended indefinitely with a "Dino Food" that can be purchased through Yonder Biology. Alternatively, backers can just refresh the ecosystem periodically. The team also says that the content are non-toxic and safe for children.
Both campaigns are accepting funding now and currently short of the goal.
Have a crowdfunding offering you'd like to share? Submit an offering for consideration using our Submit a Tip form and we may share it on our site!