In the world of custom t-shirts, CustomInk is a big player. Launched in 2000, the company has over 600 employees at their three locations (two in Virginia, one in Nevada) and has amassed over $140 million in revenues. You may have seen their commercials on TV…

Now CustomInk has launched a crowdfunding service that allows anyone to design a t-shirt and crowdfund the cash necessary to make the shirts a reality. The service is called Booster, and it is an innovative play on the crowdfunding model.
Here's how it works. First, the campaign creator creates a t-shirt using CustomInk's custom t-shirt building tool. That process takes place right in the browser and it is extremely easy to do. Then a campaign page is created. A goal is set as a number of shirts the campaign creator wants to sell. The more shirts sold, the cheaper each shirt becomes. Shipping and fulfillment is handled entirely by CustomInk, and the shirts arrive around two weeks after a campaign closes. The campaign creator keeps the difference between the cost of the shirts and the total pledged.
"At CustomInk, 'T-shirts Unite!' is our rallying cry," said CustomInk's co-founder & president, Marc Katz. "We know that uniting around a common purpose is important to our customers, and it's important to us too.  We're extremely excited to introduce this new platform and can already see that a Booster campaign is so much more than a fundraiser.  T-shirts raise awareness, boost spirits and create a lasting connection like nothing else. This is all deeply part of our company character, so it's really a privilege to help people come together and make a positive difference with Booster."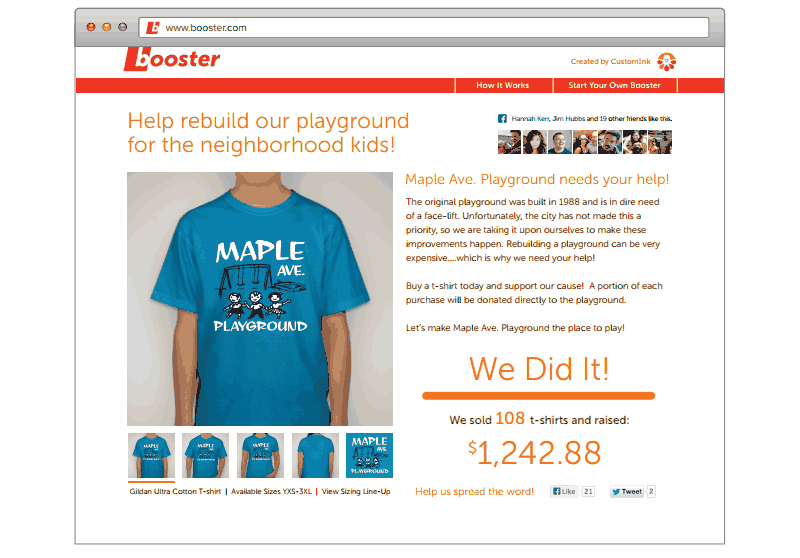 The cool thing about this model is that there is no risk. These campaigns are backed by one of the world's largest custom t-shirt businesses. Fulfillment doesn't come down to the ability of a campaign creator you may or may not know to deliver. Shirts are shipped directly from CustomInk's facilities. The shirts never have to change hands.
CustomInk makes money off the shirts themselves, so there are no fees for the campaign itself.
It's also remarkable that a big company in a seemingly unrelated niche is taking such an interest in crowdfunding and making an effort to weave it into their business model. Pretail is here to stay.
As for any success the platform may have, CustomInk says that over 500 people raised more than $300,000 while Booster was in beta, so there is obviously demand for this service. CustomInk provides a toll-free number for potential campaign creators in case they have any questions, which should help a lot of creators get up and running quickly and painlessly.
CustomInk is actually going to be making use of the platform themselves when they launch their annual "Be Good To Eachother" campaign this week. The campaign raises money for bullying prevention and awareness. 100% of profits will go toward PACER's National Bullying Prevention Center. Celebrity supporters of the campaign include Super Bowl champ Ray Rice, Janel Parrish of Pretty Little Liars and others.