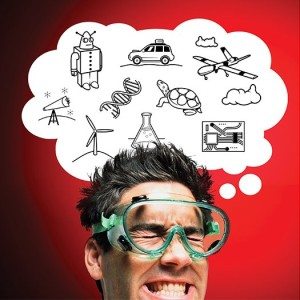 The deadline has passed for project creators to submit their ideas to Popular Science's #CrowdGrant challenge. The challenge aims to help scientists in varied fields find the funding they need to take their research to the next level.
Enter the Elcano, a project with the goal of creating ultra-lightweight, high efficiency vehicles. The goals of the project stretch well beyond MPGs.
Vehicle-to-vehicle (V2V) and vehicle-to-grid (V2G) communications are promising technologies that could also substantially reduce the number of traffic accidents and fatalities by allowing cars, traffic lights, and other elements of the driving environment to "talk" to one another, spotting trouble long before it happens. The National Highway Traffic Safety Administration has been testing such systems in six U.S. cities. Now, according to NBC News, the National Transportation Safety Board is calling for an accelerated rollout of the technology on new cars. (The Car Connection) 
Consider a world in which automobiles were autonomous. The impact of such a reality is enormous. For one, traffic accidents could theoretically be eliminated. A lack of accidents means that crash safety becomes less of a concern, allowing us to reduce the weight of vehicles. This would increase efficiency dramatically as crash safety has been a major factor in the increase of the overall weight of passenger cars over the last 50 years.
A computerized transportation system may also remove the need for things like traffic lights and stop signs, again eliminating waste in the system. Delivery of goods could be automated. The physically impaired could travel just as easily as the most physically capable among us.
The ultimate manifestation of this ideal is a world in which "the distinction between public and private transportation becomes blurred."
These are the long-term aims of a RocketHub campaign participating in the #CrowdGrant challenge. In the short term, the team wants to build a modular system that would allow any car to become self-driving. They will also use the funds to build a prototype self-driving vehicle at a fraction of the cost of similar vehicles being developed by companies like Google.
Self-driving car owned by Google costs about $150,000 and other luxury driverless cars are ONLY available for the privileged and not for daily use by the general public. We need to open source and collectively re-think how we can best deploy this cutting edge, safer, more efficient transportation technology. Laying down V2V and V2G infrastructures, with only few users, is not the optimal solution either.
The team estimates that the self-driving vehicle could be produced for a cost of around $5,000. The project is being executed in collaboration with the University of Washington computer science program and led by Dr. Tyler Folsom.
The associated RocketHub campaign has just three days to cover a $1,000 gap in funding at the time of writing. Funding stands at around $2,500 on a goal of $3,000.
With you support, we will be able to print 4 newly PCB that allow us to research and develop the road automation technology such as: Drive-by-Wire, Navigation, Pilot, Path Planning, Obstacles avoidance, Control of Robotics, User Interface, and Simulation.
More information is available at the RocketHub campaign page or at elcanoproject.org
Have a crowdfunding offering you'd like to share? Submit an offering for consideration using our Submit a Tip form and we may share it on our site!