Seed&Spark founder and CEO Emily Best will headline this year's Flyway Film Festival in Pepin and Stockholm, Wisconsin. Best will speak to festival-goers at the opening gala on Thursday, October 17th, at the Villa Bellezza Winery in Pepin.
Seed&Spark is has carved out a nice niche in the crowdfunding industry as a destination for supporting and funding film projects via crowdfunding. The sense of community Best and her team have been able to build goes a long way toward the success of projects on the platform.
The Flyway Film Festival, now in its sixth year, is a strong supporter of crowdfunded films. "Unlike other crowdfunding providers, we support the full life cycle of the film, from funding through distribution," Best explains. "Filmmakers have to apply to fundraise with us. Once they're accepted, their films have guaranteed distribution through our site."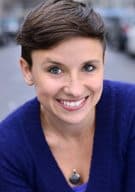 Another difference in the Seed&Spark model is the idea of a "wish list" for filmmakers. "It's like a wedding registry, where everything in the film budget is broken down into bite-sized pieces," says Best. Supporters can buy or lend the items the filmmaker needs, such as camera rental, props, even a place to stay during the film shoot.
In addition to her keynote speech at the Flyway, Best will give a two-hour workshop on funding and distribution for filmmakers.
IndieWire, a prominent news site for independent film, recently named Emily Best one of 40 "IndieWire Influencers" for her work with Seed&Spark.  IndieWire's "Influencers" are people and companies who are having a noteworthy impact on the rapidly-changing independent film industry.
Each year, the Flyway Film Festival brings in influential film industry professionals to deliver the keynote speech and hold workshops. Past presenters include Brian Newman, Sheri Candler, Kelly Baker, Jonathan Reiss, Ted Hope, and Scilla Andreen.
"I'm honored to be asked to follow in the footsteps of my mentors and most admired peers," says Best. "Flyway is a festival that really understands the importance of the connection between the artist and the audience. They're part of a broader movement to build a sustainable future for the kind of film that shapes people's lives.