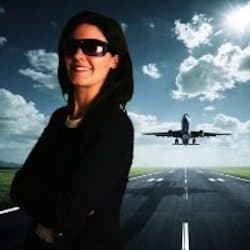 Ciara Ryan was chatting with an old school friend who had been abroad for about 5 years living in Central America.  Missing her old friend she thought it would be "great if all her friends could each donate a little towards her flight.  A little from many would amount to a lot, affording her the opportunity to purchase a flight home when she otherwise couldn't afford to."
That simple dilemma became the genesis for a new crowdfunding platform:  FlyThemHome.com.
The new venture which was launched late last year is designed to aid in the diaspora of friends and family to purchase flights to return to visit loved ones back home.  Ciara carried out the due diligence on the opportunity and determined there were no other  web sites which existed solely to crowdfund airfares.  A survey indicating that about 300,000 people had emigrated from Ireland in the last four years buttressed her concept.  There are a lot of people longing to see their friends and families once again.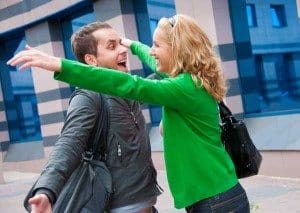 Air Ryan Enterprises was formed and a web site was developed.  About eight months later the site was ready to go.
"Our website provides a platform whereby friends, family members, or individuals abroad can create a Flight Fund page in order to raise funds for that flight home. A flight fund page is created by the individual or on behalf of the person abroad and is then promoted through social networking sites and through a unique link that only friends and relatives can see." said Ciara.

"This is a simple and very cheap way to reunite emigrants with the people who love them most."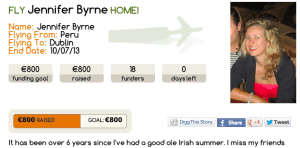 While the platform was founded with the Irish market in mind,  Ciara wants it to offer the same opportunities to the global community.  Ciara was already an established entrepreneur having created the online and print publication the yearly Farmer Calendar which was founded in 2009 and is gearing up for its 5th year of publication.

Ciara knows there is a lot of competition in the crowdfunding world but wants her site to be the number one flight crowdfunding platform in the space.  FlyThemHome will monetize their site by charging a 7% commission for all funds raised on the site.  They also hope to offer up advertising space to augment the commission structure.

Sponsored Links by DQ Promote